Last weekend we traveled to Alabama for the Gobbler Getter National Enduro. Plantersville, AL was in the path for the hurricane earlier in the week. Not a lot of rain fell but lots of debris and tress. Perry Mountain Motorcycle Club worked countless hours to fix the trail, clean it up, re-arrow, and give us an EPIC RACE! The hard work is greatly appreciated, not all clubs would put a race before their own needs. THANK YOU!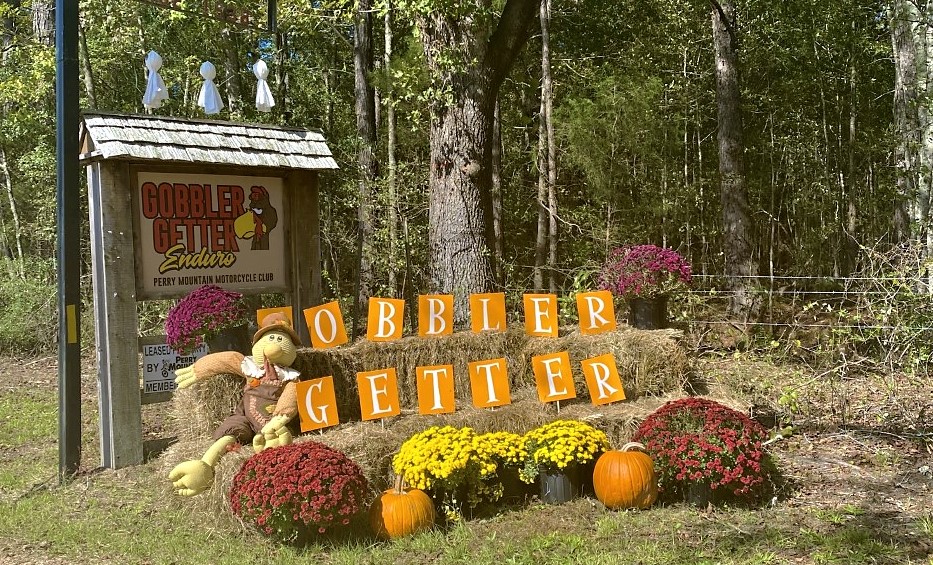 The weather was absolutely beautiful, 70's and sunshine! Dirt was brownie mix with a side of sand. Traction was the best in months. Fast, flowy, tight, hills, off cambered slopes – a big ball of FUN!
I have been recovering from an ankle dislocation but I decided to go ahead and race. Boy oh boy, I am glad I did!
Test 1 was the shortest of the day. It was pretty fast and flowed well. Sandy sections scattered throughout.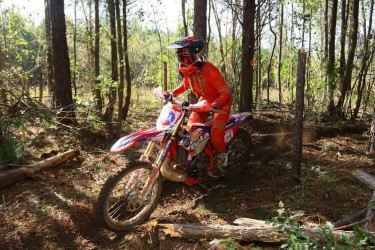 Test 2 was a little rougher. It had hill climbs and exposed roots but flowed well and was fun. I felt really good in the first part, until I had a mishap. I was going up a hill and hit a root. The rear of the bike kicked me so hard and threw me off the bike. It was almost in slow motion. I knew it was happening but couldn't do anything to stop it. It hurt. When I finally gathered myself, I realized my bike was stuck in a vine off the trail. I thought, oh great. I finally got it out but ended up dropping it in basically the middle of the trail. I then had to wait until there was not any one coming in order to get it picked up. I lost a ton of time but I was finally on my way. I instantly knew my front end was tweaked so I stopped and hit it on a tree to try to fix it. That did not do the trick so I rode it as is. It caused a few more wrecks but nothing like that first one. I had it fixed before I headed to test 3.
By this time, I was really aching. I was not really sure where or why but it was my back/shoulder area along with a big hobble. Test 3 was a lot better for me. I took it down a notch and tried not to hit roots that hard. This section was similar to 3 except it had a lot more off cambered slopes and some tricky areas. I did not wreck at all.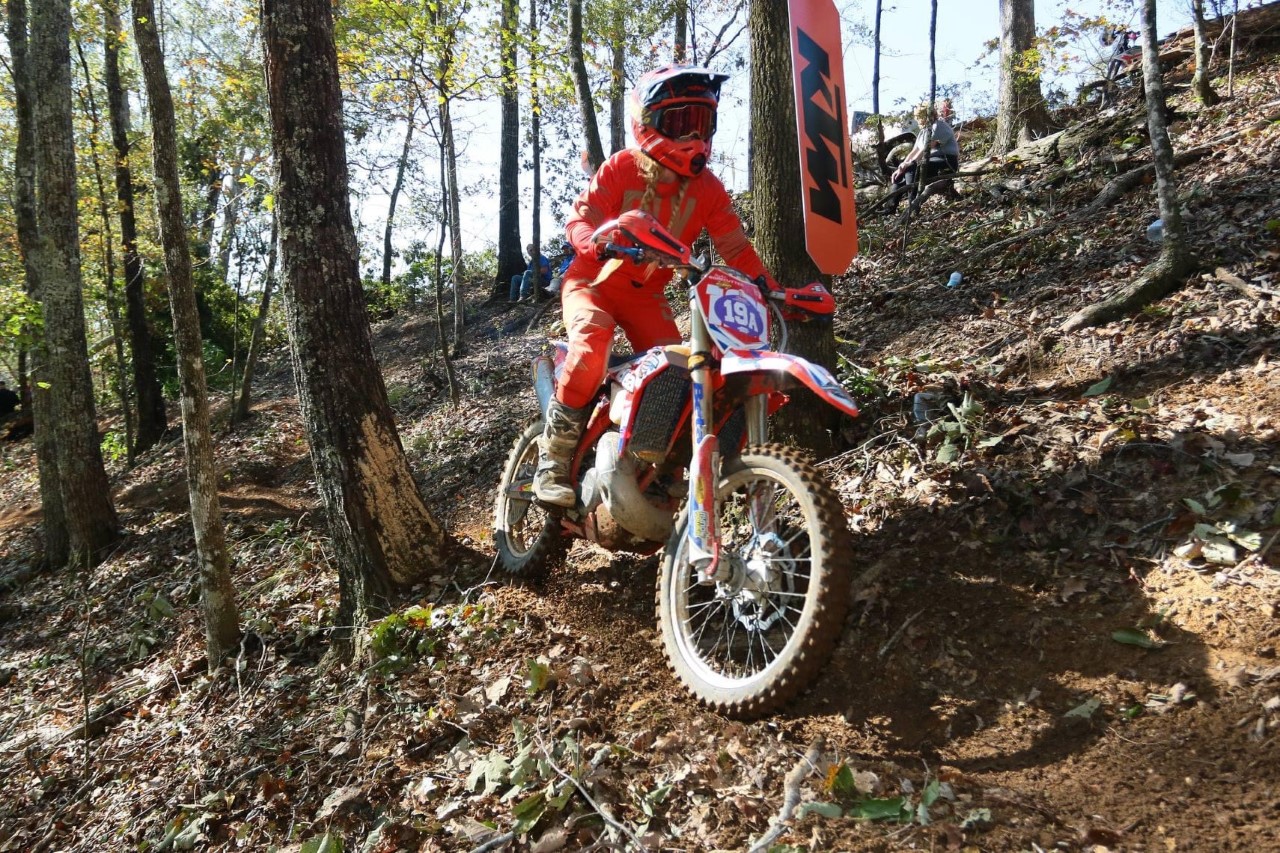 Test 4 had some mud. I avoided all the mud holes and ruts clean and did not get stuck at all. I did have a fella get stuck in front of me and I got hammered. My head felt like it weighed 50lbs. So hard to keep it lifted up. I stopped a few times trying to unload some of the mud that had been roosted on me. I was not a happy camper at all but that is racing.
Test 5 was tighter than the others but was still fun.
Considering, I felt like I had a decent day. I finished 5th in Womens Elite.
Great job to the other Bonecutter Off Road Beta & Sherco racer's!
A 250 – Huck Jenkins 6th (BETA)
A 200 – Broc French 4th (BETA)
A +40 – Steve Leivan 1st (SHERCO)
A +50 – Steve Bonecutter 9th (SHERCO)
C +40 – Jeremy Harris 2nd (BETA)
Womens Elite – Tayler Bonecutter 5th (BETA)
Womens Amateur – Kylie Harris 4th (BETA)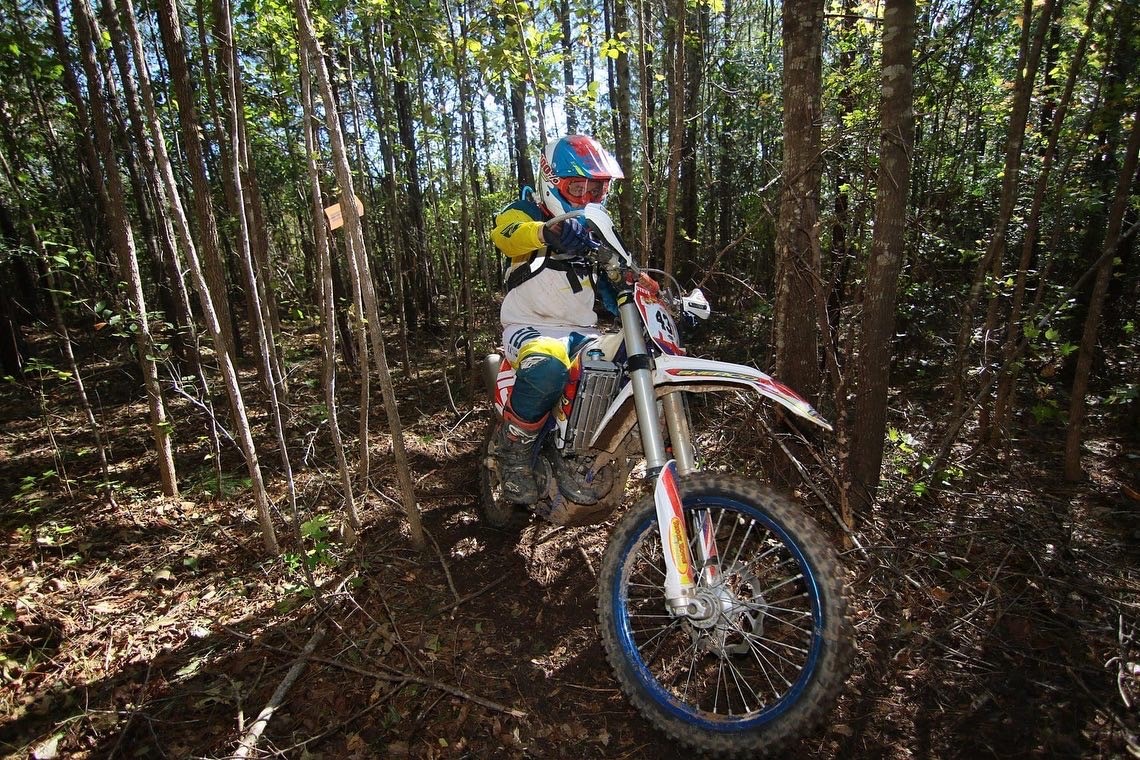 Photo Credits: Kenny King