If you spend a lot of time at Bonecutter Off Road or around my family and I, you will hear the following statement often! When purchasing a new bike off the showroom floor with a racing intent or even the die-hard weekend warrior, a lot of things should be done to said bike to make it "ready". This goes for all different brands of dirt bikes; no bike comes off the floor completely ready to ride. With that being said, a key secret to successful bike setup is knowing when to start riding and stop tuning.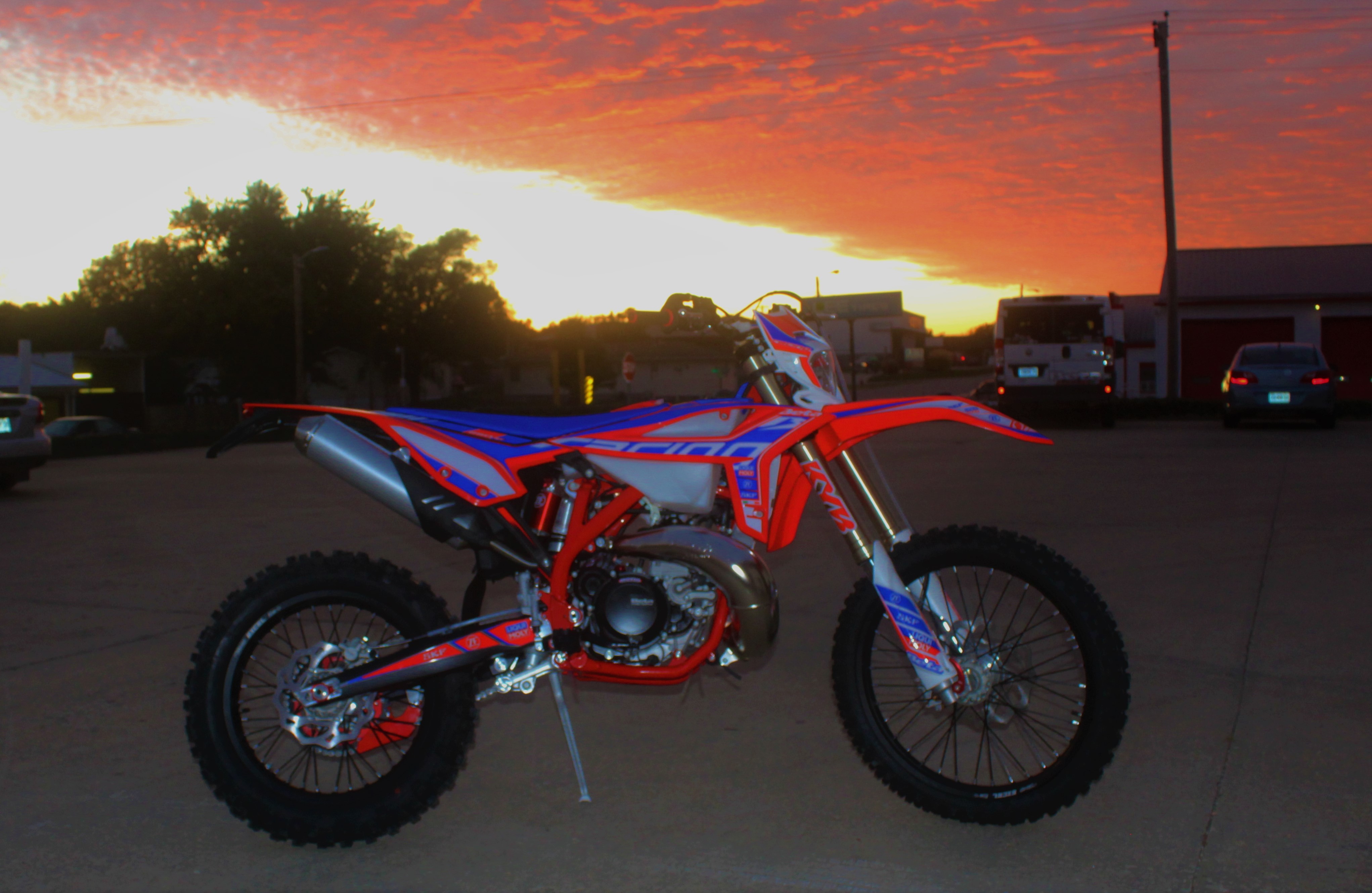 My new bike is a 2020 Beta 250 Race Edition. Most of the things done was what we felt like was necessary, but also personal preference. In the past, I have had a 2015 Xtrainer 300, 2017 Beta 250 RR, 2018 250 Race Edition, and a 2019 Beta 125 Race Edition. For 2020, Beta without a doubt upped their game! All new stronger body style, redesigned frame, counterbalanced engine, longer swingarm, KYB forks paired with a ZF Sachs shock. To me, it sounds like the ultimate dirt bike!
As soon as the bike arrived to the Bonecutter Headquarters, the first thing done was removing plastics, tank, and exhaust. Older Beta forks was put on the bike so it could be moved around.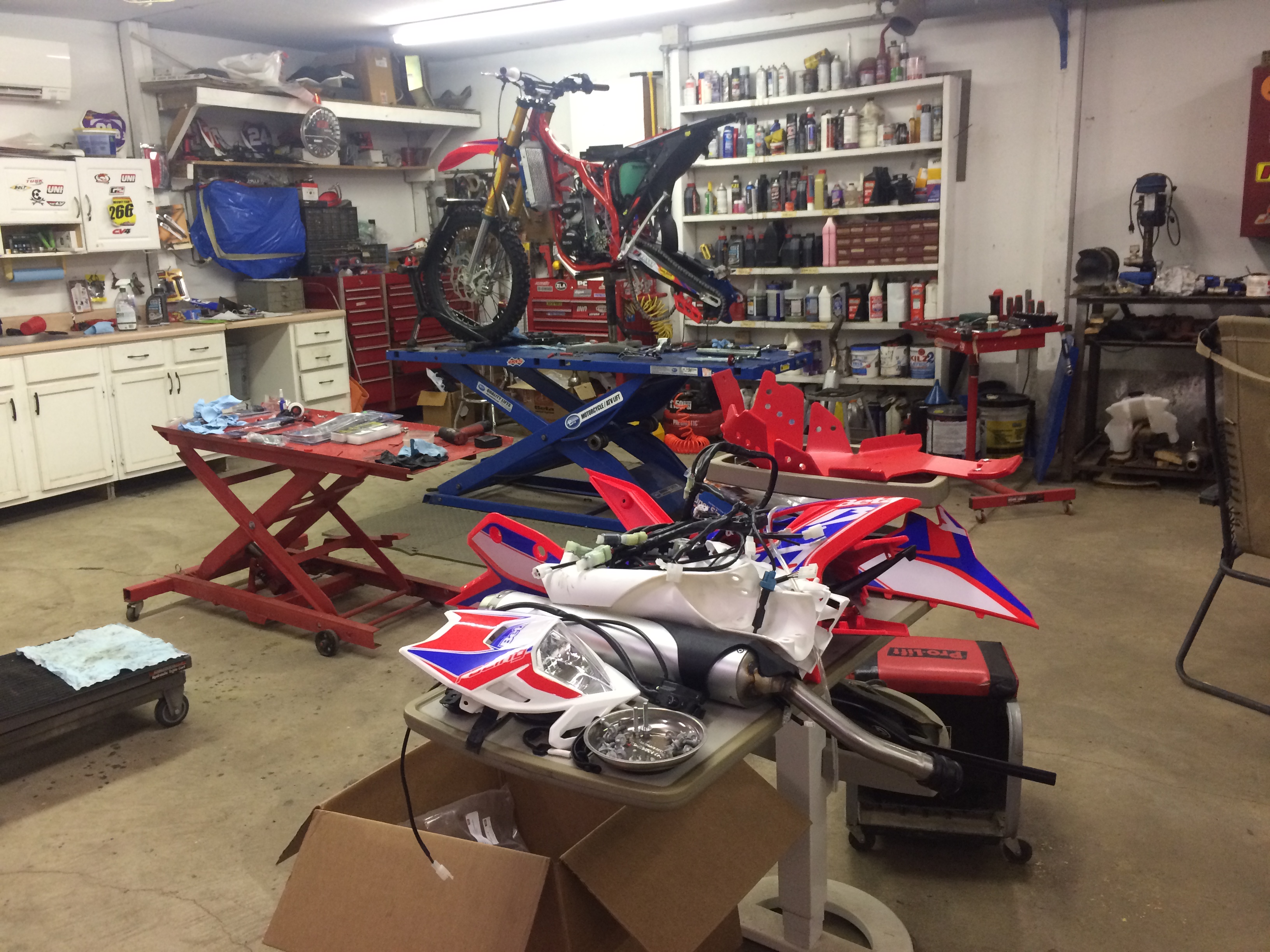 With a new bike, I recommend springing the suspension for your weight, but no other changes until you have tested it out. This is based off your weight, your correct weight not a fantasy number. Suspension can make or break an opinion on how a dirt bike feels. Not everyone needs the KYB (closed chambered forks). Being aware of that is crucial. The RR models with open chambered forks work really well. If you are unsure about which forks would be better for you, we strive to assist our customers with making that decision. With that being said, I dropped my forks and shock off at Shock Zone Suspension to get the correct springs and I went ahead and had it lowered an inch (I am 5'2"). Coming back from an injury, I felt like I would be more comfortable with both those things done before I tried to ride it.
Next order of business was removing the linkage and swingarm to grease 'em up. Most manufactures do not use a lot of grease on their bearings in the factory. By addressing this when the bike is new, the life of the bearings is prolonged.
There are times when Loctite is necessary and times when anti seize is necessary. Anti seize was applied to the chain adjusters and brake pins, helping to ensure upon removal, down the road, they would not strip. On the engine mount bolts, anti seize was applied to the bolt and Loctite on the nuts. Another crucial place for anti seize is on the bolts holding the plastics on, especially the tank ones. Strip out the tank and that's no good.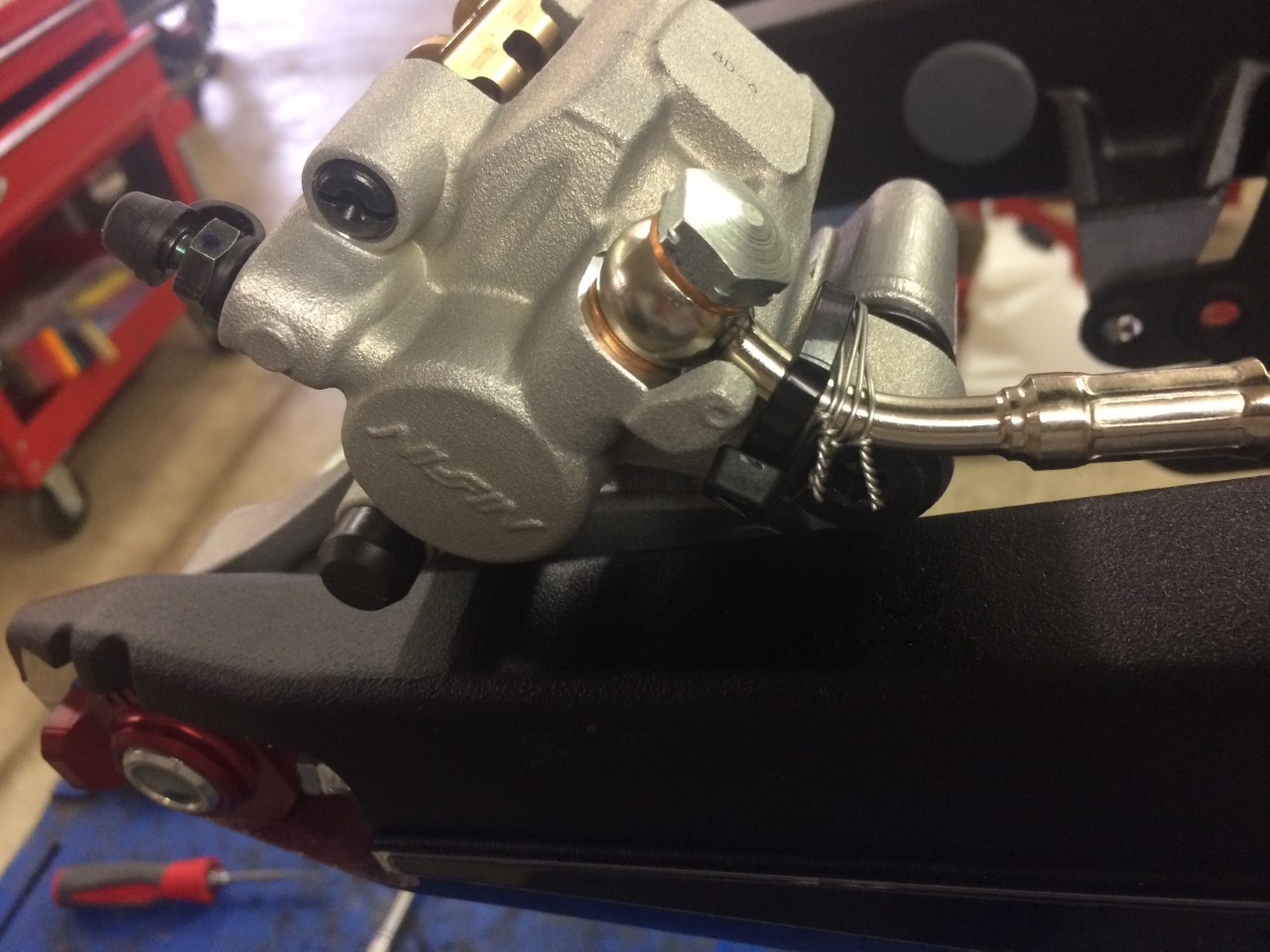 A couple "pro tips":
On the rear brake caliper, the brake line can be knocked loose, to help this issue, it is tightened to the inside and then wire tied. The front brake line is also prone to loosen up and get into the spokes which can destroy the brake line. It is very important to watch this and keep the fork guard clamp tight and position it accordingly. We also wrap gorilla tape around this area for extra protection.
All Beta's are able to dual sport. In return, they come with extra wires to make that possible. My bikes are considered race bikes, so the wiring for the lights, horns, etc are unnecessary to me. We did notice that in 2020, Beta cleaned up the wiring. Eliminated a lot and everything had a nice home. We almost did not install the race harness but I already had it, so we did. This eliminated some things. My map switch is no longer on tank but is on the handlebars. All the wires and CDI were rerouted to the right side of the bike for extra protection and less likely to receive excessive water damage. Make sure the CDI is pointed downward.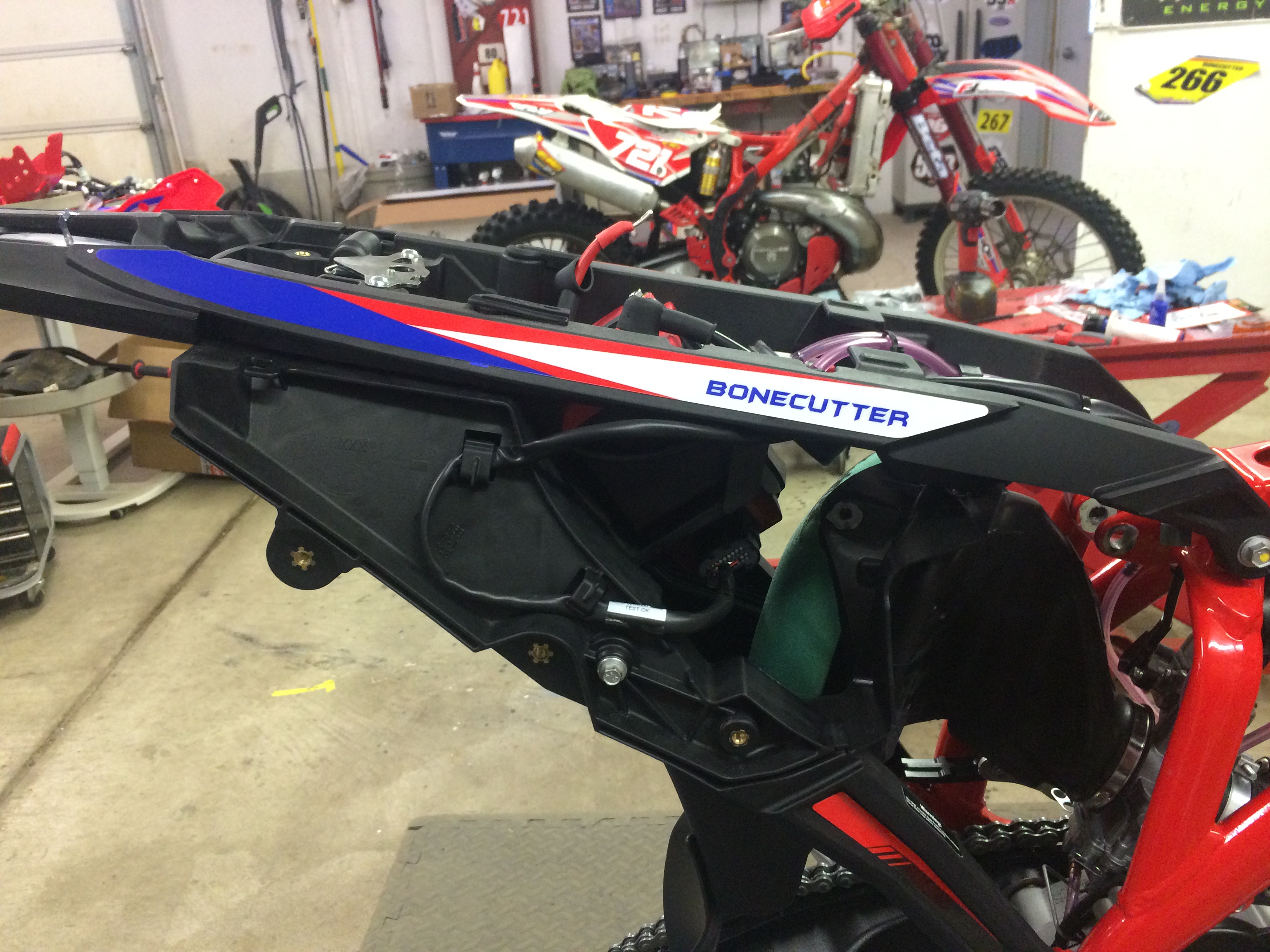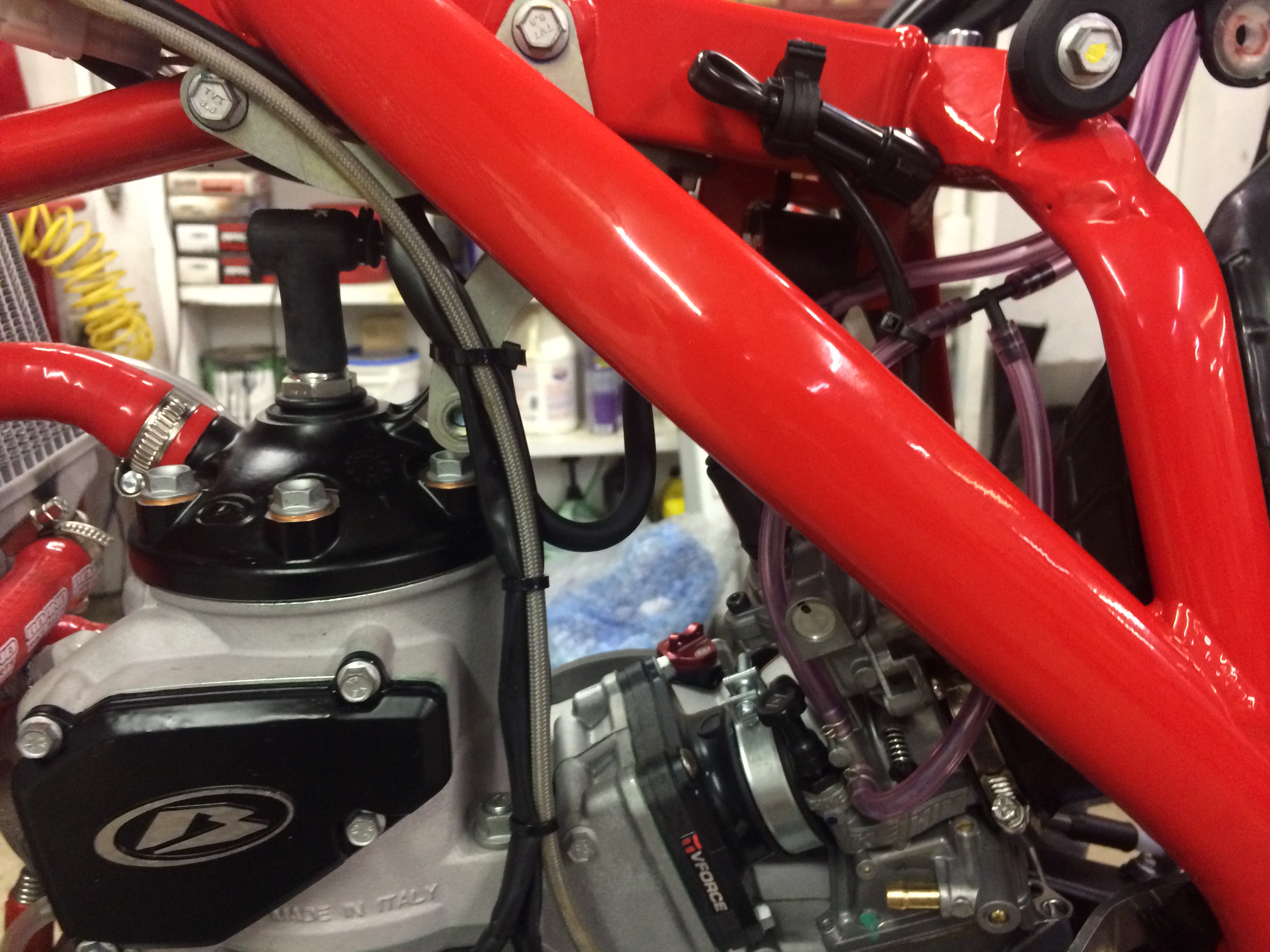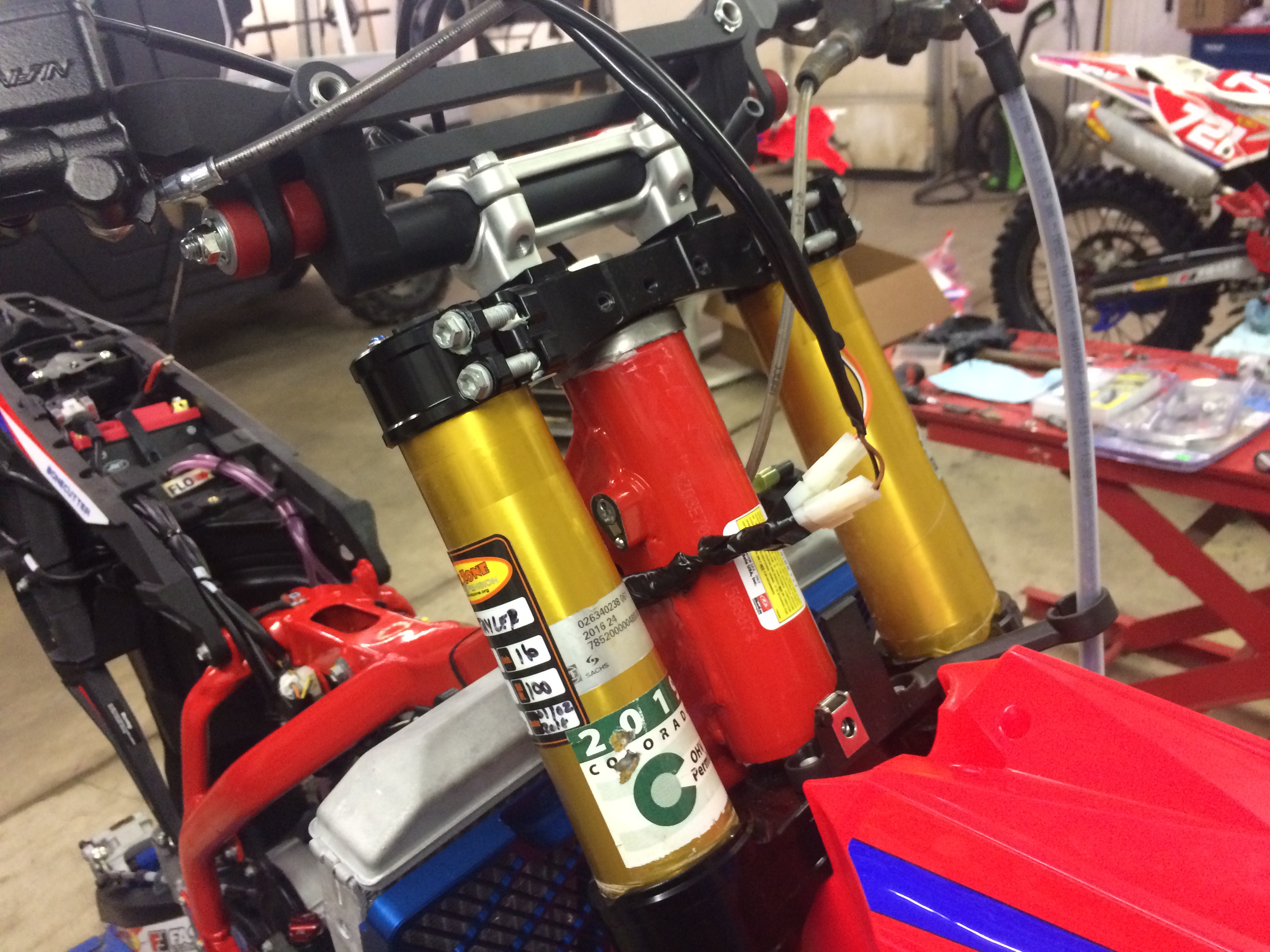 In Missouri, the stock jetting is usually good. So, we leave that alone until there is an issue. From factory, the carb vent tubes are located at the bottom of the bike. This can allow dirt, sand, or water to be sucked up. Go ahead and prevent this, a carb vent kit is installed, relocating the vents to under the seat. For under $25, you will be saving yourself a lot of future wear and tear.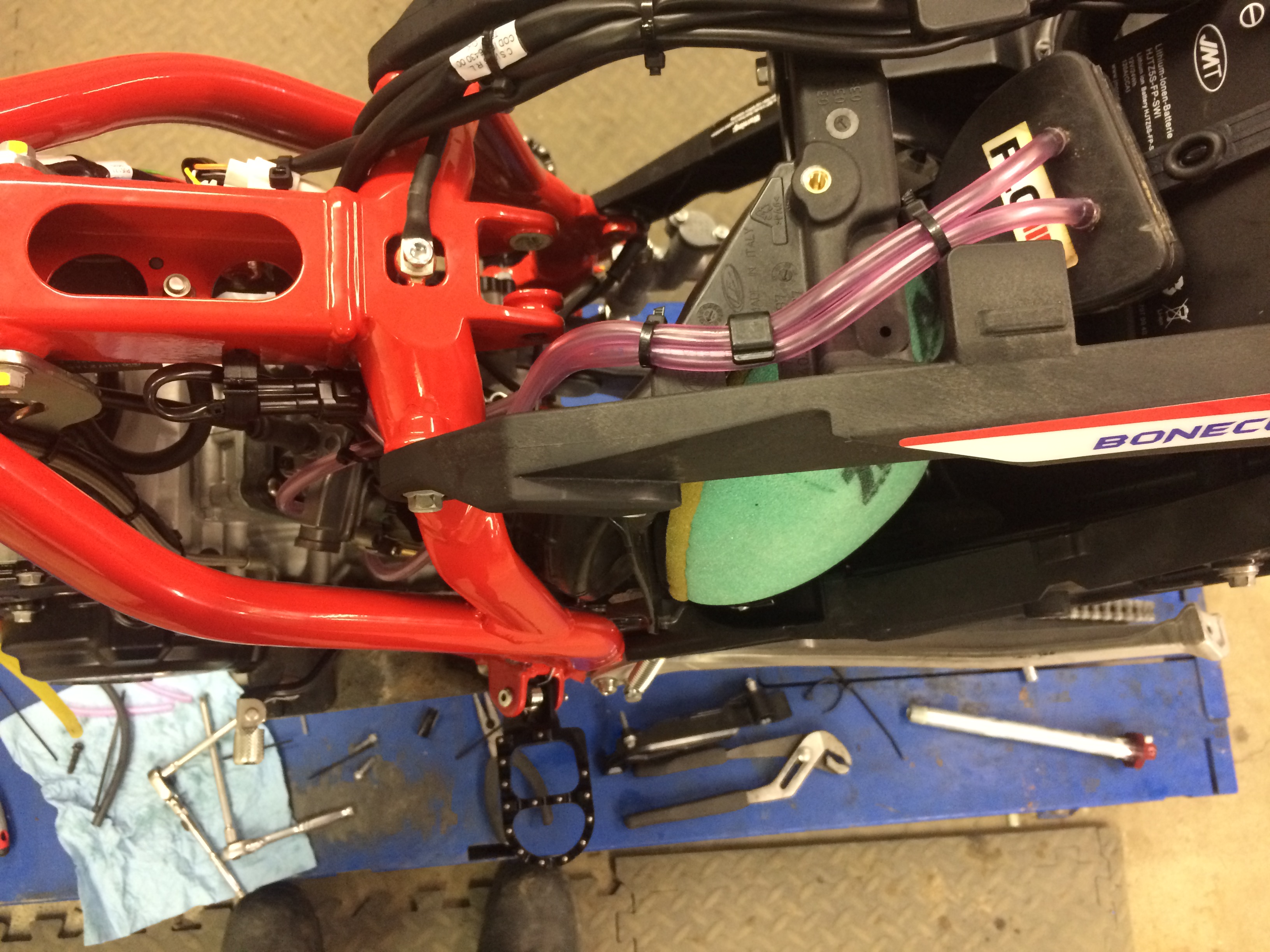 Time to address the cooling situation. Never in my life have I overheated a Beta two stroke. The thermostat located in the cooling hoses is proned to leaking. Before it is a problem, a Boano hose kit is installed. This deletes the thermostat and also keeps the bike cooler. Samco hoses are also a great brand. The OEM coolant is removed and replaced with Engine Ice. We do this because when in a pinch it can be mixed with water unlike many other brands. We keep Engine Ice on hand, so it keeps it simple.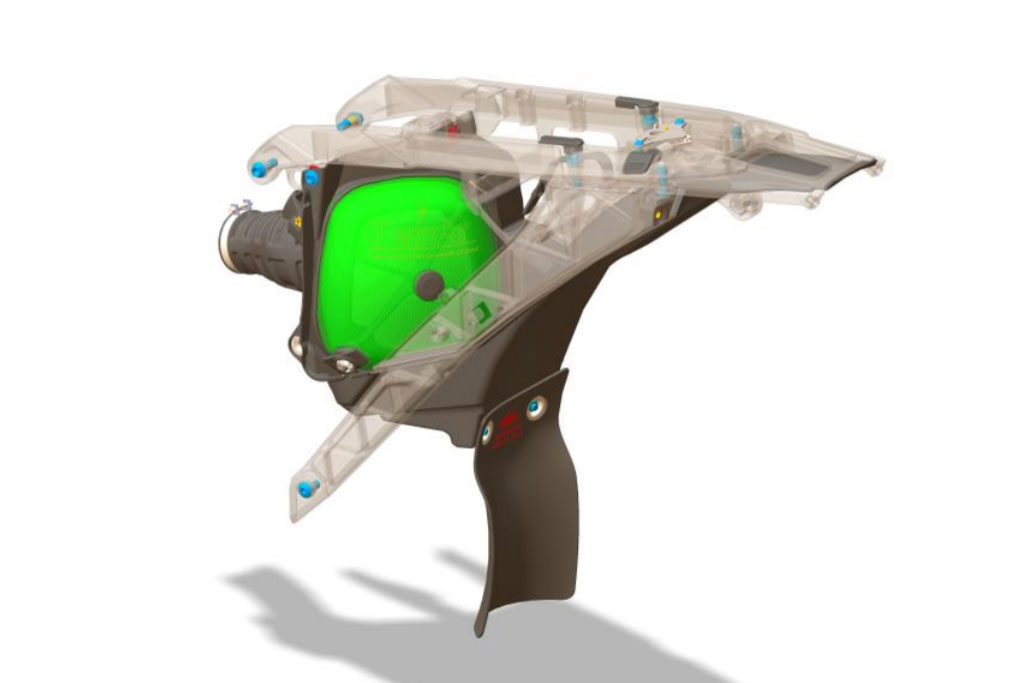 In 2020, Beta redesigned the air box and air filter for easier install. Similar to the newer KTM's but it is not exactly the same. REMEMBER, a THICK bead of grease is applied around the rim along with filter oil applied to the filter. This is a MUST every time an air filter is installed. Otherwise, the filter is not properly sealed and will allow dirt in the carb, which may result in premature engine issues.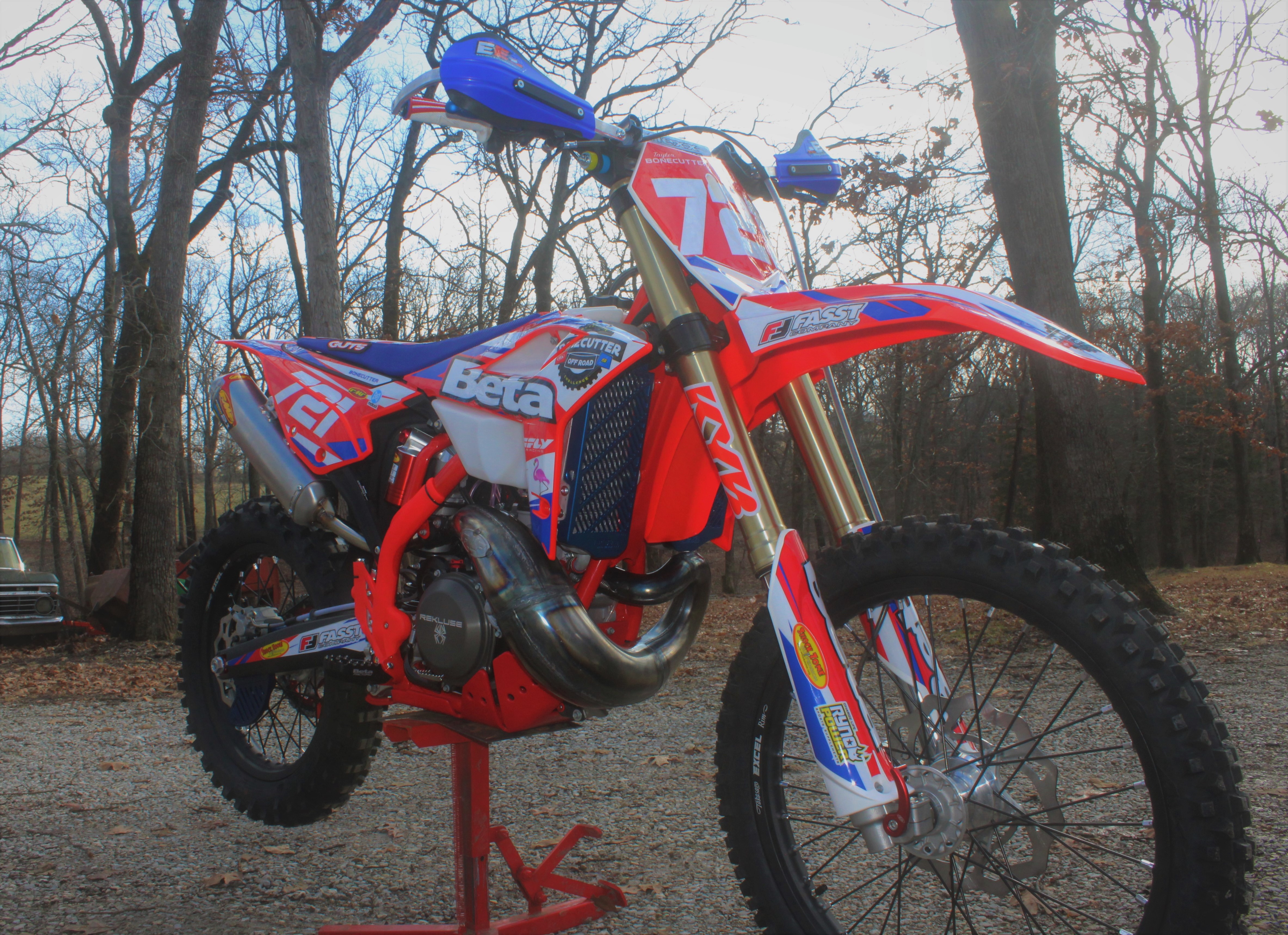 Time to install guards using blue Loctite. In the off road world, guards are pretty important. While the Loctite is out, be sure to Loctite the frame to subframe bolts and the seat bolts. For the rear disc protection, I chose a blue Bullet Proof Designs guard. In the past, I have changed the OEM chain guide for an aftermarket one but the 2020 Race Editions come with a decently thick one so I will use the stock one for awhile. Another feature in 2020 is a larger fuel tank, 2.6 gallons. For now, I will run the stock tank even when the over size one becomes available which is usually around 3.1 gallons. ALWAYS install a fuel filter. It is cheap insurance! The tank vent tube and radiator vent tube is ran all the way into the skid plate. This is crucial for the tank vent tube because it could vapor lock or wash out your bearings. Beta does come with a skid plate but I upgrade to a thicker one. I use the Boano Xtreme skid plate and it comes with a link guard. Bullet Proof Designs radiator guards are installed for radiator protection. I usually, do not run the stock exhaust and save it for when it is time to resell the bike. I run a FMF Fatty and FMF 2.1 silencer. After installing the exhaust system, install zip ties around the seal between the silencer and the header to prevent oil seepage.
Guards are important, but so are the things I think I cannot live without! First up, Fasst Company's Flexx Bars are crucial providing the extra comfort and absorption of the impacts. Coming from an elbow injury, I am trying them softer than usual with hope of softening impacts even more. Footpegs are different than years past on the 2020's but when available, I will also be installing Fasst Companys, Impact Moto Pegs. ODI Emig lock-on grips are an absolute must. I removed the stock levers and install ARC folding levers for the slimmer feel for my itty-bitty hands. Enduro Engineering handguards and deflectors are installed to protect my hands. All new bikes come with ultra thin tubes. Do not go to race like that. Remove them and either put Ultra Heavy Duty Tubes in or Bib Mousses. I prefer bibs paired with a Bridgestone M59 on the front and Dunlop MX33 on the rear. Lastly, I choose to use a Rekluse clutch. It saves me more times than not.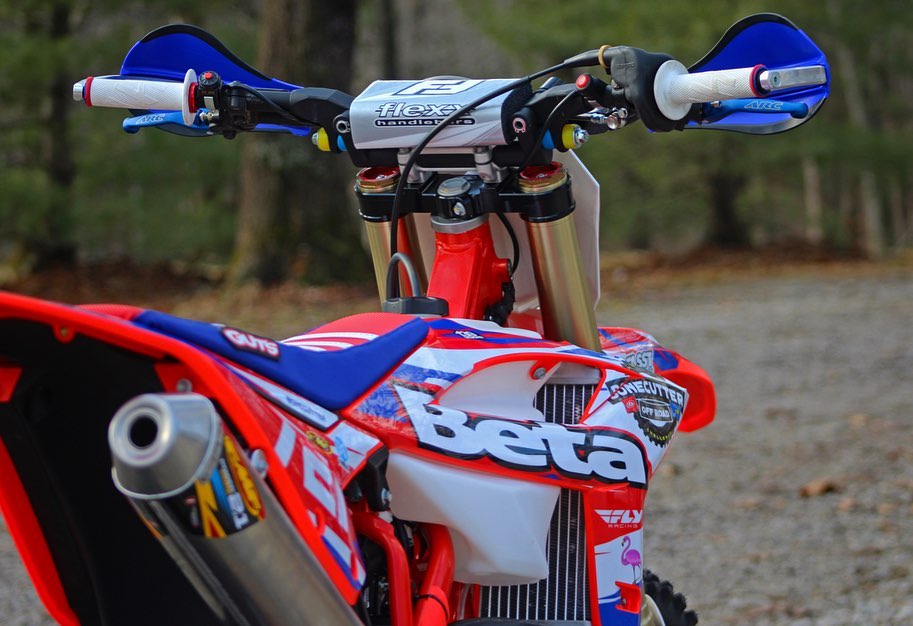 More changes to the 2020 Beta models we noticed in the bike build:
The plastic bolts are all shoulder bolts eliminating additional hardware. Removal of the gas tank is simplified; it was not difficult on previous years but it is even better now. Radiator hoses have a better mounting design. Lastly, everything has a home, resulting in more room in the frame area, supporting a clean and tidy look.
Notice, how we did not try to mod the engine or any outrageous, unnecessary things. When completely together, it is time to heat cycle. We start the bike up a few times and let it heat up to operating temperature. While running, we check for leaks and make sure everything is good. Then once it is at operating temperature, we let it cool down. Once cool, we check the coolant. Then do it a few more times. After the heat cycling is finished, we do a gentle test ride, shifting through the gears.
It is finally time to ride and break in the new machine! 2020 Beta 250 Race Edition ride review coming soon!!!