The only girls allowed riding weekend started three years ago at Hardwood Hills Ranch and has created many lifelong friendships. The first year four girls participated, the second year it grew to nine girls, and this year exploded! The weekend was quickly arriving, with an expected attendance of nearly 30, including 9 girls under 11, a teenage group, and women.
Meg and I worked hard to promote the weekend, inviting all the women we have met traveling and racing. A Facebook event page was created so we could keep track of the ladies planning to attend.
With so many young girls riding with us this year, we spoiled them with candy, necklaces, cute bags, and bright pink sunglasses. We had dirt bike related giveaways for everyone who came. MTA Distributing donated pink Torc 1 Racing Grips, Bonecutter Off Road donated a set of women's gear, Bridgestone M59 front tire, and Fly T-shirts. Marionville Power Sports donated a super cool Shot helmet.
Meg got the weekend started early to decorate the lodge in pink and flamingos. Saturday was the official start day of the girls riding weekend. Day one we had 21 ladies show up. The day was laid out by splitting the ladies into three groups determined by skill level. I worked with the advanced level group. I set right out to challenge their abilities by riding a tough 15 mile portion of the yellow loop. Everyone seemed to enjoy the trail. After all groups were done with their first ride, we decided to let everyone choose who they rode with. A group of four teenagers instantly clicked and it was one of the coolest things to witness. It reminded me of the first year when my group of ladies and I became so close.
Saturday night, Meg took a group of younger girls on a night ride using her Task Racing helmet lights. They absolutely loved it.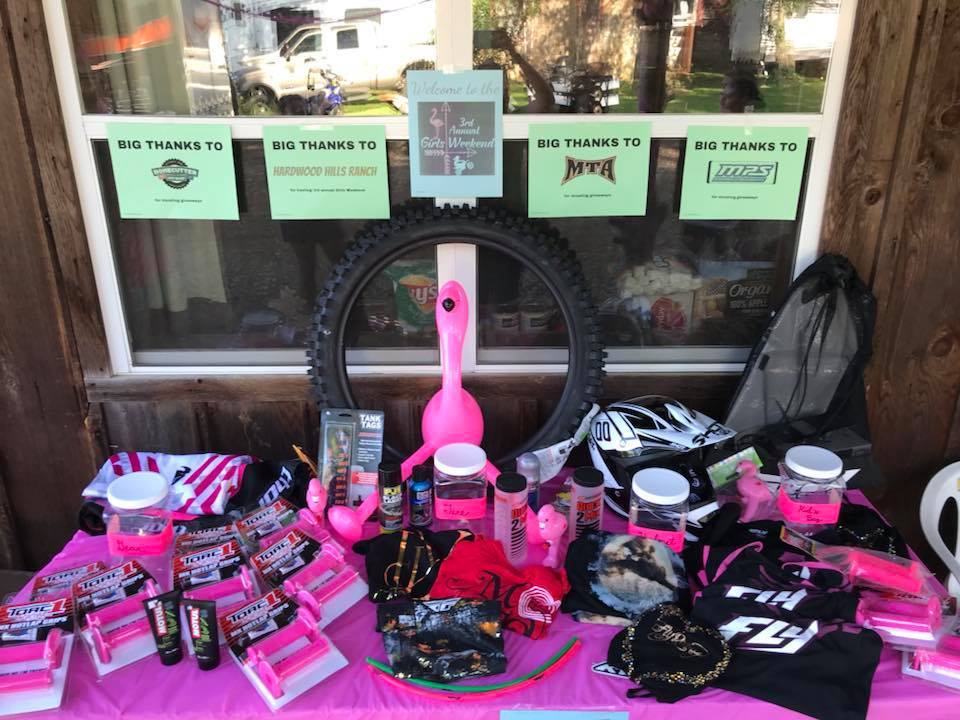 A few of the girls left Saturday and a few more showed up for Sunday. Sunday was started with the giveaways. We had four big prizes; gear, helmet, front tire, and a kid goodie bag. Everyone put their name in a bucket of their choice for a chance to win one big item. There was so much excitement with the girls, teenagers, and women during the drawing. No one left empty handed smaller items were given to all who attended. Thanks again to MTA Distributing, Bonecutter Off Road, and Marionville Power Sports.
The Sunday morning riding was very laid back, everyone doing their own thing and riding with who they wanted. Meg decided to do a slow race and limbo with the kids.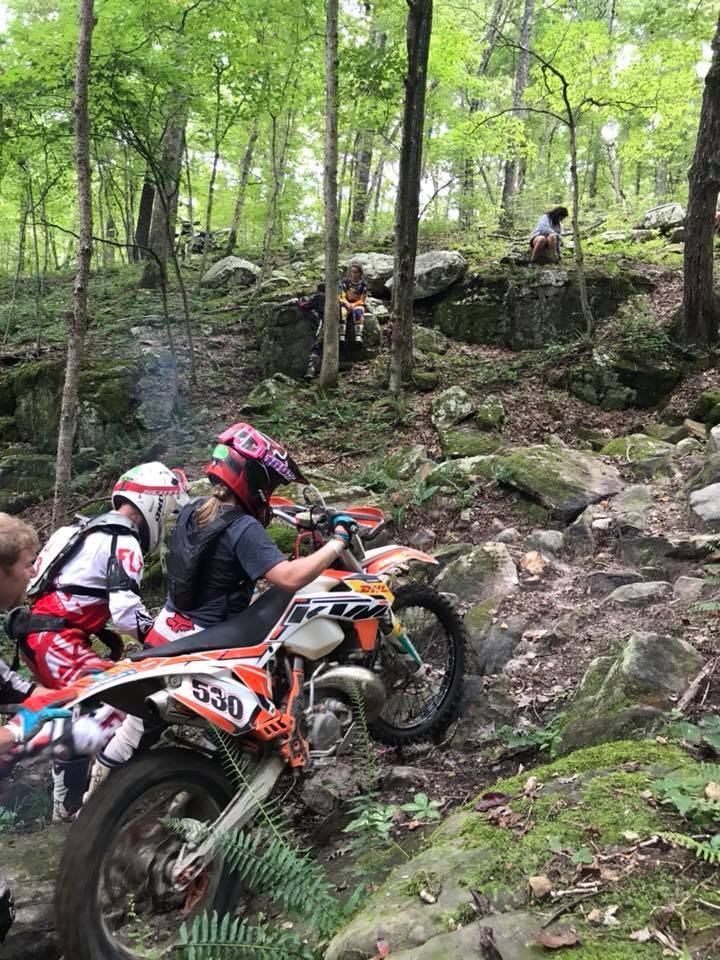 Sunday afternoon, Meg and I had the pleasure to "break in" the teenagers by letting them ride the hard sh*t of HHR! Most riders would start with the easier obstacles and making it harder each time, we went straight into "Something Special", an element used in the final moto of The Ozark 100 Miler. Pictures and videos of this hill does not capture how gnarly the hill is. With assistance all girls made it up without breaking anything! That alone is bragging rights! Next stop was "VW", off cambered slope with big boulders everywhere. This obstacle is night and day easier than "Something Special" but choosing the right line can be tricky. All of the teenagers made it through without assistance. They wanted more, so we headed to "Bastard Hill", a long steep uphill washed out and covered in loose rock. Being a really tough hill, there were only a few issues; but everyone made it to the top. After doing so, EVERYONE was ready to call it a day!
Sunday night was filled with the kids playing and the adults telling stories. Over the entire weekend there was 24 girls! It is amazing to see so many ladies get into this male dominated sport, excel at it, and make friendships that will last a lifetime!