2019 NEPG Beta Cup contender Huck Jenkins tells about how his weekend on the road and round 1 in South Carolina went.
"Well for my second NEPG ever I think this weekend was a success. The Bonecutter crew-Steve, Tayler and I, left the end of my driveway at 6:30am. That's early for me, but nothing like when Tayler and Steve left their place. They left at 4am. Yuck! We then headed
down south, long drive. Traveling with the Bonecutter's is not at all like traveling with the Jenkins family. Sheesh we Jenkins talk-- a lot! The Bonecutter's, not so much. Don't get me wrong we had our moments of conversation but not extreme, intense, 4 hour
discussions like with my dad. I'm not sure I've ever spent that much time in silence in my life!! Trust me, it was a nice break.
Friday night we stayed in a hotel in Columbus, North Carolina. We then woke up even earlier the next morning! 5 o'clock--that's equivalent to the middle of the night for a teen like me. Getting to the race that morning was incredible! It was nuts, there were already
more people there Saturday at 9 a.m than there would be at a full, local race!! We set up quickly and went to sign up before the line got too long. Then some bike prep, and tried to get a good night's rest for race day. I didn't sleep a wink. But I was ready
for it when Steve and Tayler got up.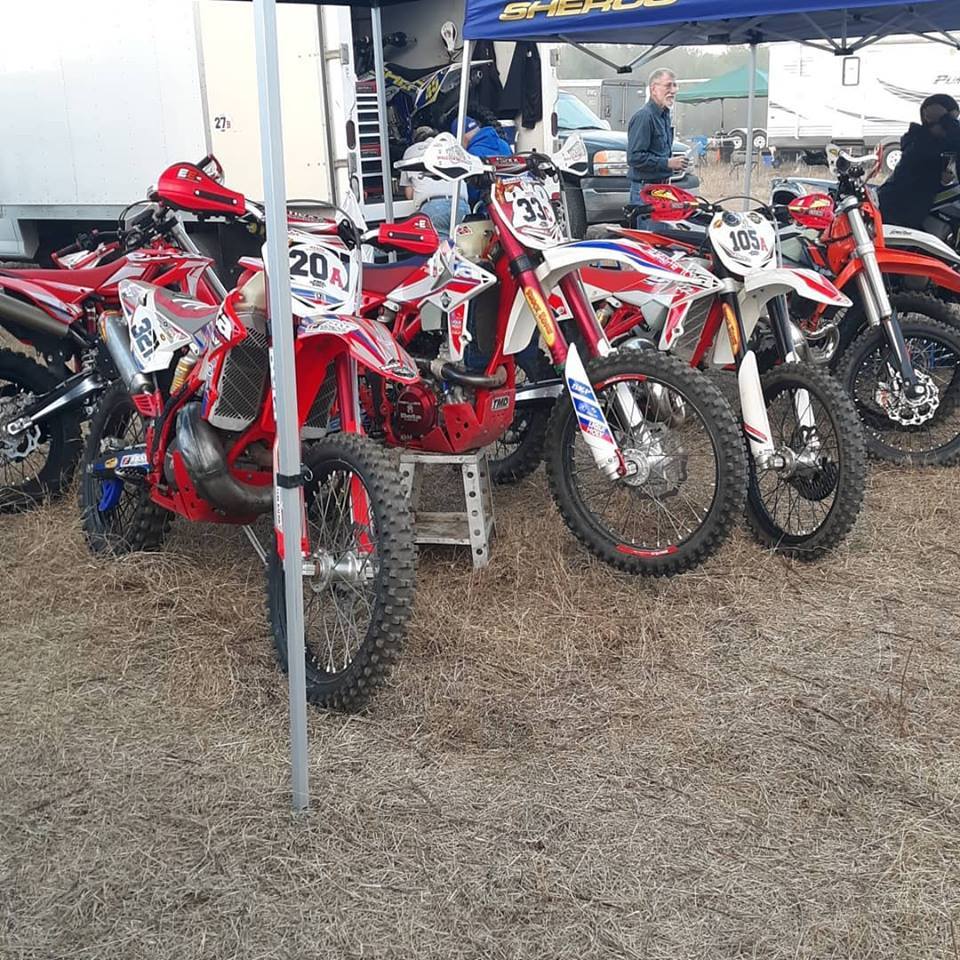 Much to my dismay, I was row 105 in an enduro formatted race where there are about 150 rows, with 6 people on each, starting 1 minute apart. I had a pretty beat up trail. The good thing about my row is I happened to be on the same row as Andrew Smith. Great learning
experience for me! Tayler was row 20 and Steve was row 33. I cheered people on and took videos and pictures of Tayler and her pretty bike ( I don't know how she gets it so darn clean!!!!!). So my time rolled around, and I can say that the entire weekend I
didn't see a SINGLE ROCK!!!!!!!!!!!! I think I'm going to get spoiled racing the National's now. The first test was great, I made a few mistakes at the beginning and finally got my groove on, just to end the test 8 miles later. Test 2 I picked up my speed
and was moving!! I think I was running 6th in A200!! Test 3 didn't go in my favor. I figured in a regular Hare Scramble I can just about go through any rut I want if I take enough speed. Not after 600 bikes go through it! So test 3 about the third turn I
went into a dry clay rut and completely sank my bike. Luckily it was a dry rut so I held it wide open and walked the bike through it. Test 4 didn't go any better, in fact it went WAY WORSE!! I got into a swamp area and looked for a good line through a mud
hole but didn't take enough time picking the best one and just went for it. OOPS! My bike was so far in the mud I couldn't see the rear fender. UGGGGHHH. I knew I wasn't strong enough to deadlift my bike full of mud. But either way I wasn't going to give up
so I struggled away. The thing about these races is there are no sweepers so I knew I was done for it unless some kind soul stopped to help. THEY DID!!!!! A kid about 15 or 16 stopped to help me!! Thank goodness. We wrestled for probably 10 minutes to get
it out. Thank you unknown kid!! The whole ordeal took about 20 minutes, not only ruining my chances of finishing well but draining all my energy! Tests 5 and 6 were just surviving to the end for me. For all you Missouri riders you haven't seen tight trees
until you've ridden in South Carolina. Oh my gosh, I was first gear through at least 2 miles of each test weaving through trees. Let me tell you, that is tough!! I finally made it back, Steve loaded my bike, and we rolled out following Steve Leivan, who parked
next to us. We drove to Knoxville that night to stay in a hotel. Boy did I sleep good!!
It was a wonderful and relaxing drive next day. I can't wait for the next round in Florida. Now that's a long haul! I love
my Beta 125 and couldn't ask for anything better!! Thanks Steve and Tayler for all the help and taking me all the way down there!!!!!!! Or as Steve put it…. "I just picked up this random hitchhiker in St. Louis". --- Huck Jenkins