I finally raced my first harescramble in 10 months. Last weekend round 1 of MORE took place in Versailles, MO. Earlier in the week a tropical rain storm passed through causing flash flooding in the area. I assumed it would be wet but not a complete mudder which was correct. Unlike most Missouri areas, this property does not have many rocks. The trail was soft in places and developed some really cool ruts and some not so cool ruts.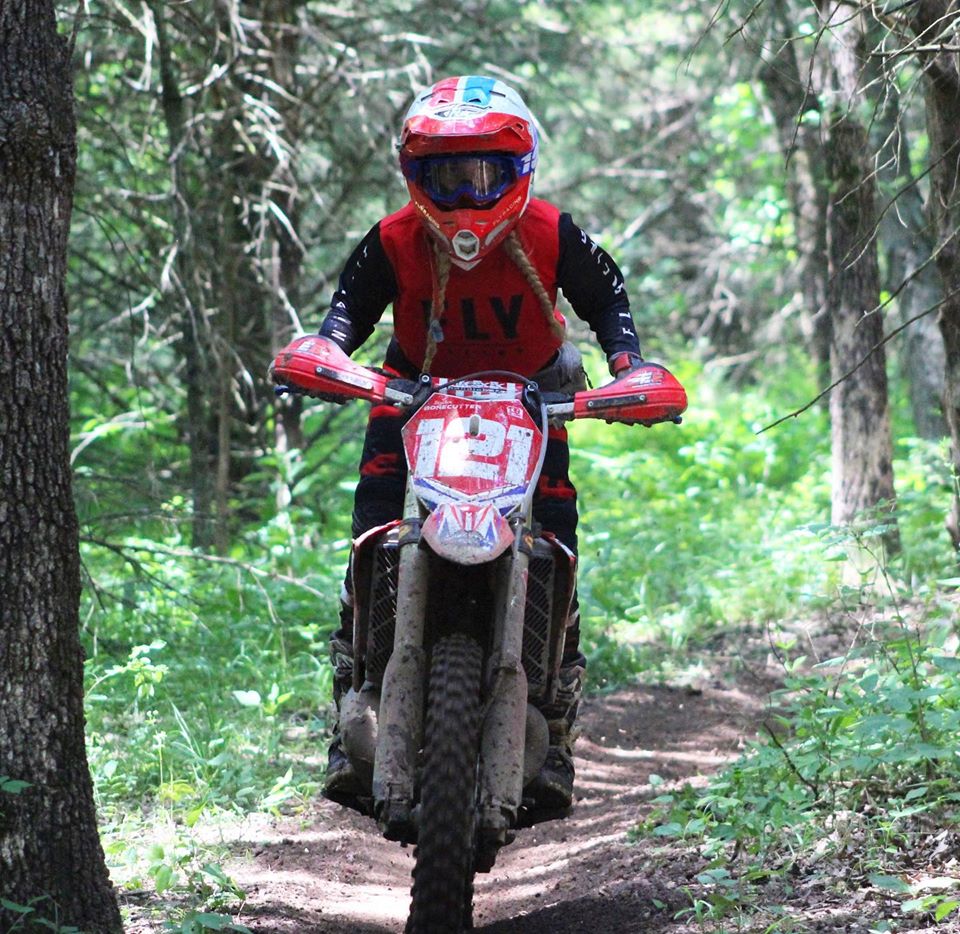 This year, I decided to move up to the A class. Some insight of how my mind works and why I feel like moving to an A open class (with men) is a good choice.. I like a good challenge. Without pushing myself, I would remain the same. You can't stay in your comfort zone and expect change to happen. You can't opt out of competition; you lose and you win. Both are important to develop your skills.
Anyways.. Saturday morning, I raced Sportsman Expert, which is the front row with a combination of Pro and A riders. That was pretty nerve racking. I have not done very many front row starts and of course Andrew Smith lined up right next to me. I knew his four stroke would not start very fast so he would be behind me lol. I got pushed to the outside of the first corner and went into the woods towards the end of the pack. I was with a couple riders for half a lap until I made a mistake. Towards the end of that lap, I went by a fellow rider in my class who was buried peg deep in a mud hole. I started lapping people on my second lap. I did not have many issues getting through them at that points. Towards the end of that lap, I managed to get cross rutted and ended up in a tree stuck, under my bike. I kept kicking at it trying to get free. Luckily, Ed the owner of Romp MX rode up on his XR 650 and freed me. Lap 3 and 4, I started to come up on bottle necks. People sitting in a skinny creek waiting for a free line to pop up. I weaved my way through them. I ended up finishing 10th out of 11.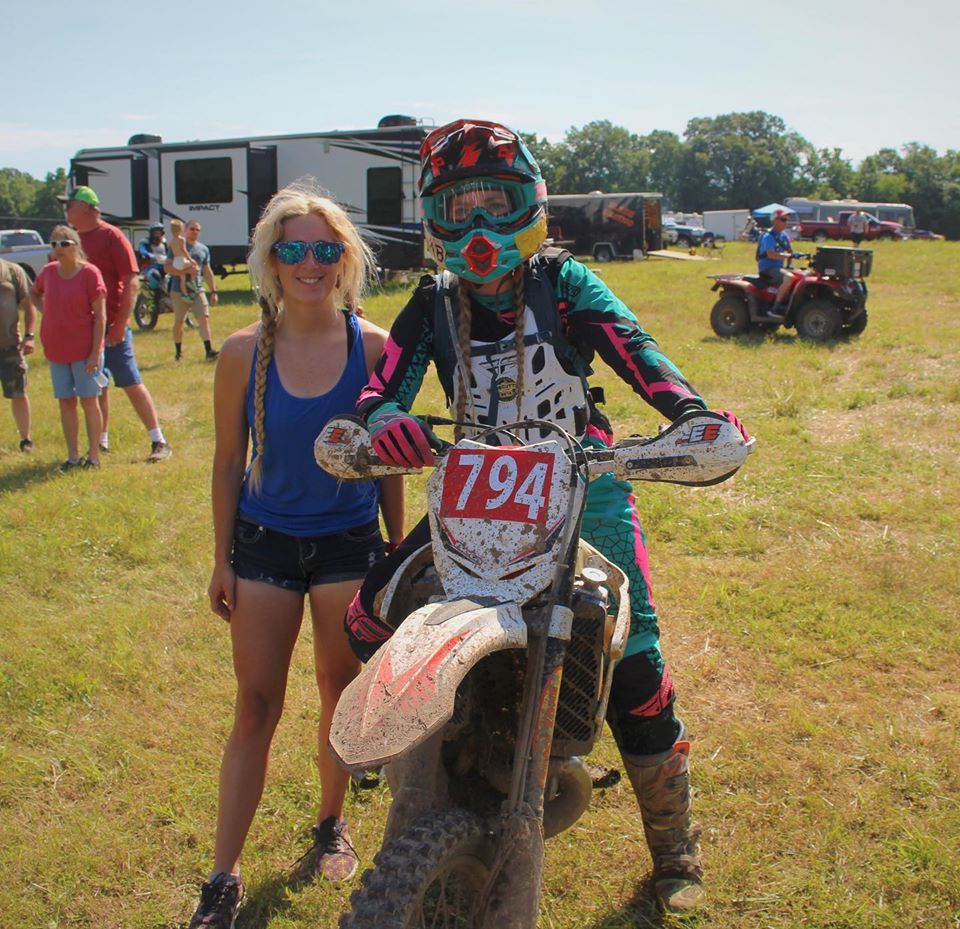 Saturday afternoon, I raced Ladies A on my Beta 125. It is the ultimate fun bike. My kicking leg had a massive cramp when the 15 second board went up but it fired right up when the flag went up and pulled the holeshot. I finished 1st out of 8. There was a total of 14 ladies signed up for that race. My BFF Meg even came out of race "retirement". I am stoked to see the turnout increase and hope it continues!
My arm was a little sore and stiff from Saturday's races so I figured my two hour afternoon race would be a little rough for me. There were 10 people signed up in the A class. I had a decent start about mid pack and held it for awhile. A couple miles in, I hit a rutted line with large exposed roots and took the bars to my ribs and flipped over my bike. That certainly cost me a lot. I got back up and proceeded. I did not wreck the rest of that lap or the next one. Almost a hour in, I started to lose control of my throttle (from a tired arm) and began to make a ton mistakes. I felt like a complete beginner. It was rough. BUT I finished the race and that is what counts. I ended up 9th out of 10. I have a month before the next MORE and I am more aware of where my physically weaknesses are and plan to change my focus for a while.
It was wonderful to see the local race family. I appreciate everyone giving me the encouraging words all weekend! It is an atmosphere I absolutely enjoy.
Race season has official began for Bonecutter Off Road Beta and Sherco Racer's! Great job to everyone.
Results:
Pro – Steve Leivan 2nd (SHERCO)
Pro – Huck Jenkins 3rd (BETA)
A – Steve Bonecutter 3rd (SHERCO)
A – Tayler Bonecutter 9th (BETA)
B – Jackson Cassil 3rd (SHERCO)
B Short – Wade Mislevich 14th (BETA)
B Short – Chris Scott 16th (SHERCO)
B+50 – Roger Mackay 7th (BETA)
C – Tate Witzman 6th (SHERCO)
C+30 – Kevin Taylor 1st (BETA)
C+40 – Walker Rutledge 1st (BETA)
C+40 – Travis Opie 3rd (SHERCO)
C+40 – Doug Herbert 5th (SHERCO)
C+40 – Mike Rothganger 7th (BETA)
C+40 – Brandon Opie 8th (SHERCO)
C+50 – Philip Burger 1st (BETA)
C+50 – Steve Summers 14th (BETA)
C+50 – Kerry Youngerman 15th (SHERCO)
C+50 – Rob Steele 19th (BETA)
C+50 – David Campbell 21st (BETA)
Ladies – Megan Kennon 2nd (BETA)
Ladies – Tamie Cochrane 3rd (BETA)
Ladies – Missy Bonecutter 5th (SHERCO)
Sportsman Expert – Huck Jenkins 2nd (BETA)
Sportsman Expert – Steve Bonecutter 6th (BETA)
Sportsman Expert – Tayler Bonecutter 10th (BETA)
Sportsman Intermediate – Jackson Cassil 1st (SHERCO)
Sportsman Intermediate – Gary Wolf 13th (SHERCO)
Sportsman Schoolboy – Tate Witzman 6th (SHERCO)
Sportsman Amateur – Kevin Taylor 9th (BETA)
Sportsman Amateur – Megan Kennon 14th (BETA)
Sportsman Amateur – Fischer Taylor 18th (BETA)
Sportsman Amateur – Jon Goldsmith 19th (BETA)
Sportsman Amateur +40 – Philip Burger 2nd (BETA)
Sportsman Amateur +40 – Kerry Youngerman 8th (SHERCO)
Sportsman Amateur +40 – Randy Mittman 17th (BETA)
Ladies A – Tayler Bonecutter 1st (BETA)
Ladies A – Megan Kennon 2nd (BETA)
Ladies A – Tamie Cochrane 5th (BETA)
Ladies A – Missy Bonecutter 6th (SHERCO)