Mental Toughness
A quality of mind or intellect characterized by, among other things, a refusal to be intimidated, a determination to finish a contest even when things are going badly, and an ability to control emotions and remain highly focused when under the pressure of intense competition. Compare physical toughness. – OXFORD REFERENCE
Last week I took some vacation time and spent my week training with a couple of Beta USA's Factory Team Riders, Rachel Gutish and Thorn Devlin. I cannot thank the Gutish family enough for giving me a place to stay and for helping me service my bike.
Thursday, we went to this really cool place in Indiana that seemed to be somewhat similar to the terrain in Upton. It was really good practice! Almost to the end of my first lap, a FREAK accident happened. I missed a turn and started to turn around. Next thing I know, my foot is in my rear wheel. I AM NOT SURE HOW OR WHY BUT IT WAS! That caused me to fall over. I fell on throttle side which made my throttle stick wide open, sucking my foot on in. It was jammed in between my rear tire, swingarm, mud flap, and kickstand. LIKE WHAT THE HECK!! SO WILD! It was so painful. I was in a standing position but the pain was excruciating so I sat on the side of my bike and started yelling for help. At first, Rachel and the other people we were riding with thought I was just sitting on my bike until they took a closer look. Then everyone started freaking out. I was stuck on how does this even happen and they were stuck on is her ankle even attached to her leg anymore. They did not think that they could get me out without taking my rear wheel off but I begged for them to just try because I was hurting so much, I did not want to wait for someone to go get tools. The next problem was the kickstand but somehow, we got it squeezed on through. I sat there for a minute to gather myself and mentally assess the damage. I decided I could ride my own bike out so I did and called it a day. Friday, I spent my day hobbling around trying to decide if I could race on Sunday. It was a BIG FAT NO on Friday and most of Saturday. I am not sure what changed my mind but I went ahead and registered Saturday afternoon.
Sunday morning rolls around and I really started to think I made the wrong choice on signing up. It was a cold 46 degrees and rain, less than ideal conditions for a bummed up ankle. Before I could talk myself out of it, I put my gear on two hours early. I knew by doing that, I had to race.
Test 1, it rained pretty hard. Goggles lasted less than a mile. I froze waiting for my row to take off but at least I was already wet before crossing the massive creek 20 seconds in. Most of the first test was really flowly but fast. It even had what felt like a mile-long straight stretch on a paved road. I spent most of this test trying to figure out how to ride with my current situation.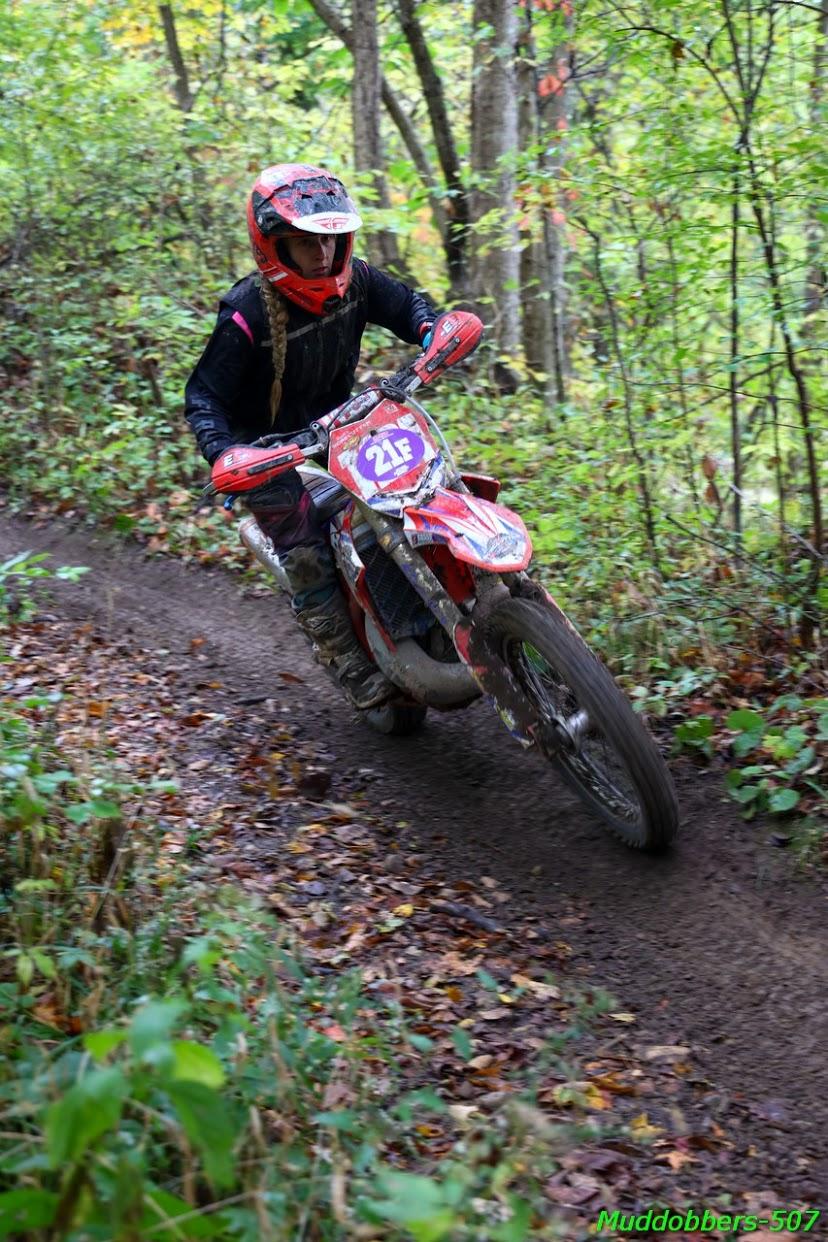 Test 2, was bad. You can ask anyone and you will be told, it was REALLY BAD! It continued to rain into this test and dry ground with water added was like ice. This made everything sketchy. We rode along the river with big roots sticking out. I was so nervous I would not be able to control my bike and I would end up in the water. Loads of pile ups on hill climbs and even on flat ground. It was so difficult. I wrecked a lot. I struggled a lot. I hurt a lot. Everything combined made me want to quit. But for me, quitting is not an option.
I proceeded on to test 3, I was late and I knew it. I was super hesitant and did not trust the ground below. It was like test 2 scarred me for life lol. I just rode and tried to stay off the ground and not make myself hurt more. There were tons of logs in this section to. Not small ones either, HUGE ONES.
I was late to test 4 but not by as much as I was to 3. I rode smart and better to get through it. I wanted a snack so I focused on what it took to get from A to B, start to end. Test 4 was a little bit more fun than 3.
I had 15 minutes before test 5! I was stoked. I got my snacks and fuel in my dirt bike. It was a mental game changer for me. I rolled up to the start and said "FINALLY!". The check worker claimed this one would be a fun one but I did not know if I should believe him. But it was fun. It flowed so good and you could actually trust the ground. I rode as fast as I felt comfortable doing.
At this round, Womens Elite, had to do all 6. All I wanted was to be done and I really do not know what was in this test but I did whatever it took to get done.
I finished the day 3rd in Womens Elite out of 6. My first national podium of the year and my first ever payout! I was stoked to prove to myself that I could finish no matter the amount of pain and discomfort I was in. It is just another reason why you should never quit. Nothing is scarier than blasting through a corn field, not being able to use your rear brake well or be on your toes from lack of movement in the ankle but hey it was a race for the books! Super thankful for my Fasst Company Impact Pegs keeping me stable on the bike with less vibration going to my foot.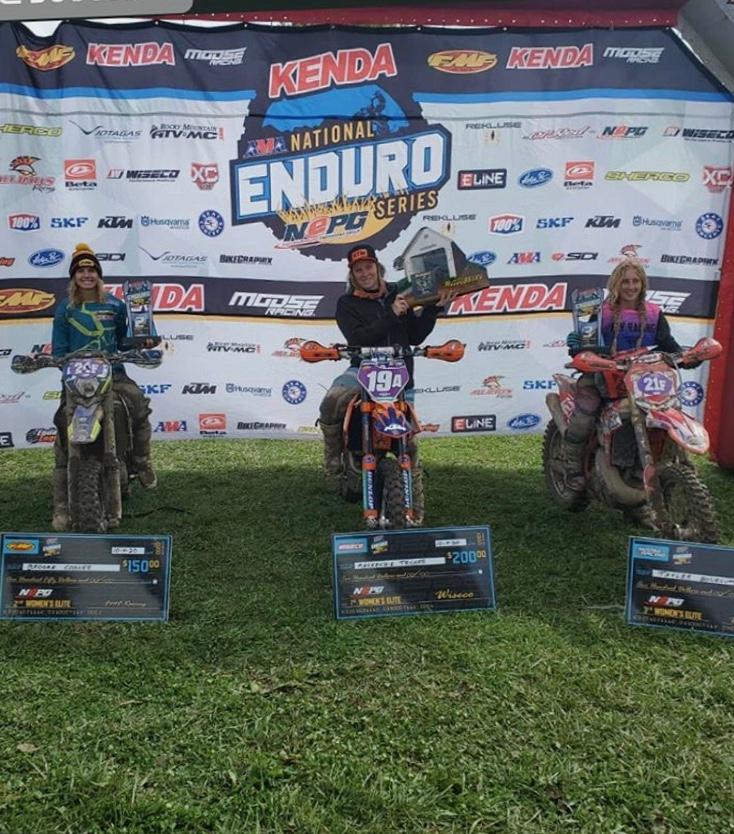 I went to the doctor on Monday and no broken bones. I just need some time to heal and I will be good to go.
Great job to the Bonecutter Off Road Beta and Sherco racer's!
A200 – Broc French (BETA) 2nd
A+40 – Steve Leivan (SHERCO) 3rd
C+40 – Jeremy Harris (BETA) 1st
Womens Elite – Tayler Bonecutter (BETA) 3rd
Womens Amateur – Kylie Harris (BETA) 1st