Round 3 of the Okie Sprint took place this past weekend in Maramec, OK. According to Google this is an old ghost town, it is roughly a 5 and half hour drive from Mid-MO. This event was co-sanctioned with Black Jack Enduro Championship (BJEC), so the format was a little different. Split into two groups, long course which included B and above and the short course which included C and below. Two sections, long course had to do each section 4 times each and had two hours to do one section 4 times, plenty of time. Come and go as you please but must finish in the time limit. I race B class, so I was in long course group.
I arrived Saturday early enough to walk one of the sections. Looked like there could be a few potential trouble areas, mud holes. Luckily, the rain cloud missed the 111 ranch so for the most part the trail would be pretty good. Saturday night, I got treated to a nice, thick juicy steak from Asa Hancock and his buddies. It is a good feeling when you are away from the normal race crew and people still know ya. It is interesting. Anyways,
SHOUT OUT AND BIG THANKS TO THEM, IT WAS A GOOD STEAK!
Race day, long course group started on the loop I did not walk. I felt like it was pretty muddy and I struggled to find my flow. Roots were slick, the ruts were deep, and the small amount of rocks present were slippery. My second time around this loop, I took an inside line on a corner (I did take it my first time around) trying to get around someone and sunk my bike. No joke, it was deeper than swingarm deep like to the bottom of my plastics deep. First thought was, well shit. I tried everything I knew to do, wedge it out with sticks, make the rut wider to lift it out, tried laying it over, put a shoulder under the rear fender to use my legs to lift it out. It was not gonna budge by myself. Luckily for me, some nice older gentleman decided to stop and help me out. I was very thankful for that. We tag teamed lifting it out and I was finally on my way. I lost about 6-7 minutes here. When something like that happens, it is all on how you react. A person can get a crap attitude, give up and quit or you can get back on the bike and race your heart out. It is all in your reaction. After I finished that lap, I will admit I was frustrated but I cleaned my goggles and lined up to go out for my 3rd loop. This time we were routed around another trouble area and I knew to not take that inside line in the other area.
Finished it and immediately went and got the fourth one done. I still did not feel like I had a good flow.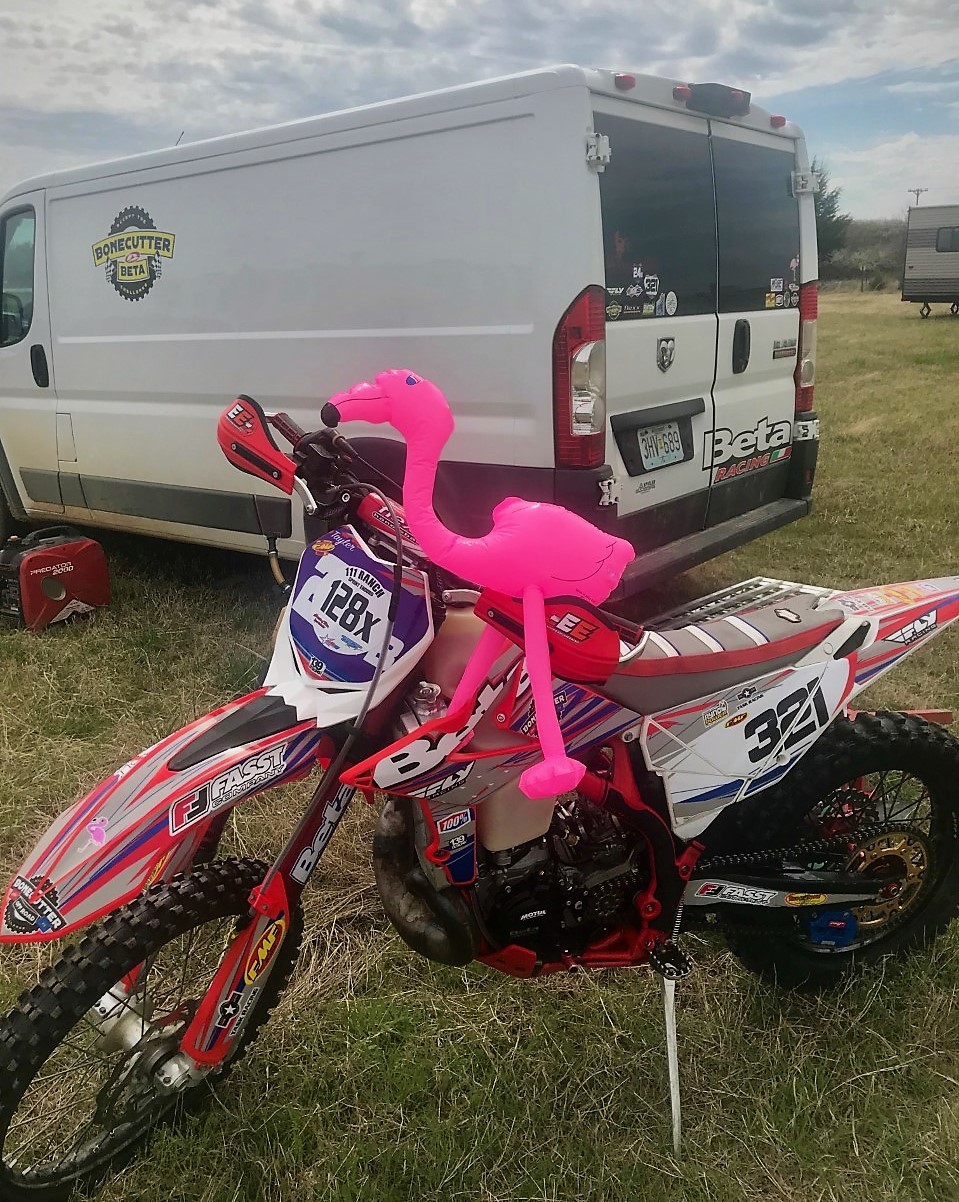 I checked the live results after I was finished during the break before the two groups switched sections. Looked like I was around 6 minutes down from the person in front of me and not in last. From what I had seen walking, I knew this section would be way more fun for me. I got my positive pants back on and was ready to rip. Patiently waited my turn in the long line of people, waiting to get back out there. Finally, my turn and I was feeling pretty good. Leaving the last part of the trail before the massive field section there was a big terrace that I had forgot about. I definitely sent it over faster than I would have had I known it was there. But it was fun and I stuck the landing. Each time out I had more and more fun. It was fast flowy trail and the grass track was fun too. After my last time out, I was not ready to be done and would have loved to keep riding, that section was that good! I made up 3 minutes on one guy and gained a position in the class finishing 13th for the BJEC part of it and the Okie Sprint combined some of the classes to fit their classes available so I am not positive what I placed with the combined part. I was not super thrilled with my finish but what can you do when you decided to bury your bike in a deep rut.
I am already looking forward to round 4 and 5 this upcoming weekend!

Great job to the other Bonecutter Off Road riders who were there!
Pro – Steve Leivan 5th (Sherco)
A – Broc French 7th (Beta)