The 9th annual off-road cup took place this past weekend in Wyandotte, OK. It is a 9-hour race, 3 "man" team with the option of ironman or ironwomaning it. A 2 "man" team was also allowed. The weather could have not been more perfect, sunny skies and 70's! Trail conditions were the best possible since I started doing this race.
When I think of D-Day Adventure Park, I think lots of ROCKS, it is almost like they grow them for fun. What little dirt there is generally gets rutted from the constant beating of bikes within 9 hours. The properties main use is for paintball. So, there are all kinds of cool things we get to ride through such as buildings and Styrofoam walls, which was my least favorite part. All kinds of army tanks and helicopters are also dispersed around the property.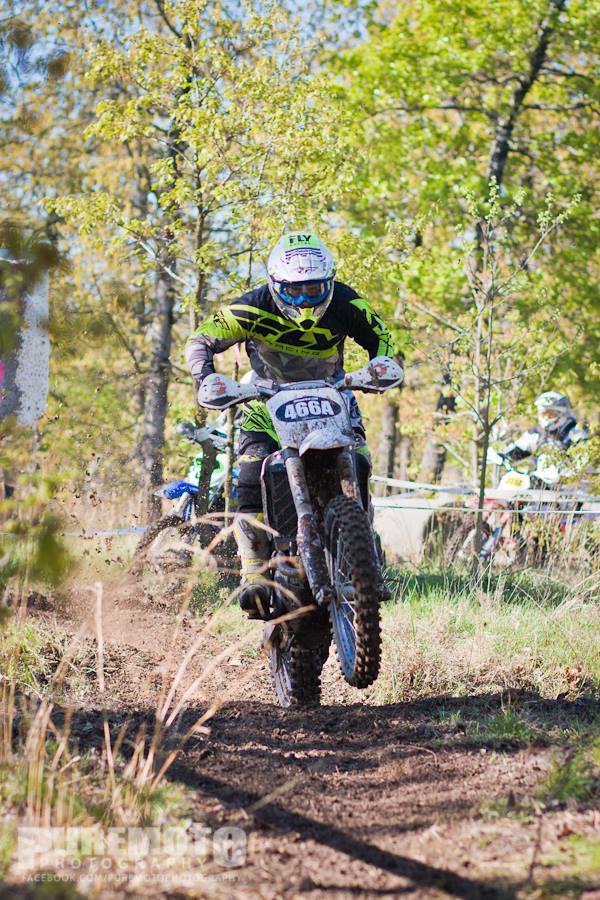 This year, I decided to do a family team with my brother and my dad. My mom came up with the team name, "Two Bone Heads & a Blonde" – it was a hit! My brother did the start; he was second into the woods. Family class starts after B class. Wyatt said that he had tons of passing to do in his first 3 laps on the leaf covered trail. My dad was up next, a lot of the loose rocks was out of the way at this point and the trail more open. I went last and did two consistent laps; trail was still a little sketchy. We continued in this order and kept battling with another family team. The next time I got to go out, I busted out some of my fastest times! I felt really good and the trail was for sure as good as it was going to get. The day seemed to go really fast. I did a total of 6 laps, my brother did 11 laps, and my dad did 9 laps for a total of 26 laps and only 1 minute 24 seconds shy for 2nd place. Coming into the last two laps, the battle was on. My dad and the other team went out at the exact same time and after that second to last lap only 20 seconds separating. My dad pushed as hard as he could but the other team had more. Two Bone Heads & a Blonde finished the day with 3rd in Family and 11th overall.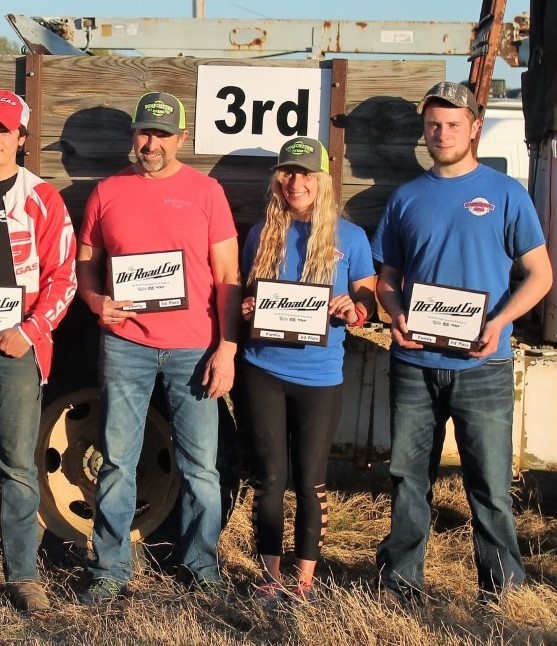 Since, my 6 laps did not satisfy my itch to ride, I put in a few hours on Sunday. I felt great and looking forward to getting back to NEPG racing. I have spent the last three weekends in Oklahoma and I am ready to get further south with a good dirt/sand combo. Louisiana is up next for me!
Big thanks to everyone who supported the mobile store! After the race was over, we noticed our tube shelf was almost empty!! We are glad to help and appreciate the honest riders leaving money.Thanks to the MORE crew for the good times.
Great job to all the Bonecutter Off Road riders and their teams!!
P/C: Puremoto Photography & Up Close & Dirty Motorsports Photography