Well….. spending 3 days on a dirt bike is spectacular but I think next time I could go for 4+ days! Can you picture 30+ miles of epic single track with good friends plus an appearance from a kind of fast guy!! Ok, maybe Damon Bradshaw is not that fast…HAHA yeah right, "the beast from the east" can still ride a bike! Good times were had.
Friday was a get to know the trail day and get tire tracks on the virgin trail. BTW, there was roughly 12 miles of that, so that is sick. The "leaders" and floaters had a blast!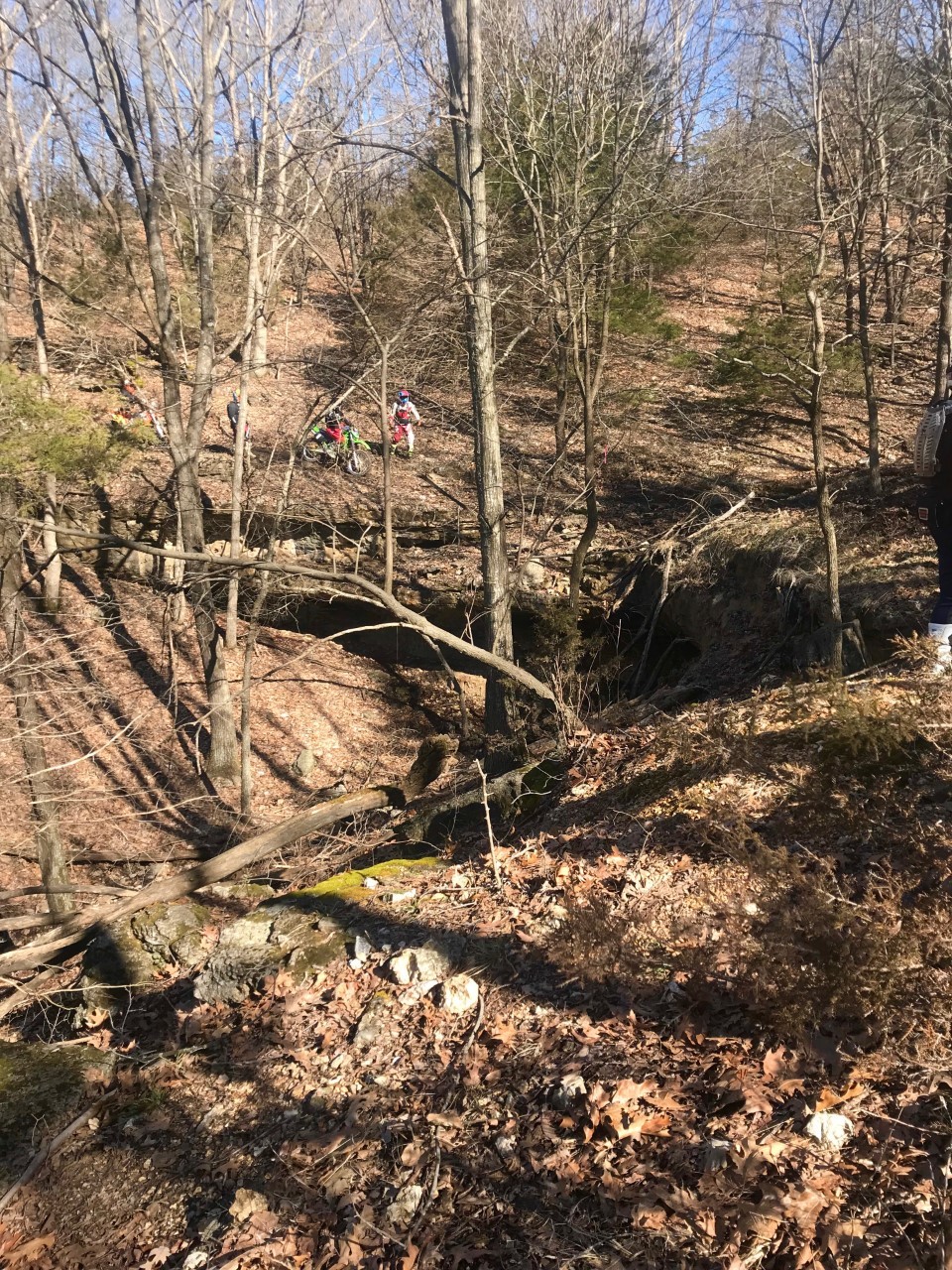 Saturday, we split off into groups, I had 13 riders + 2 sweepers following my excellent trail guiding skills. The first loop was around 12 miles and was virgin trail. It was a little harder than the old race trail but it had some cool formations and waterfalls to look at! In the middle of the woods, out of nowhere, it looked like someone had tried to make a cobblestone road out of hundreds of small boulders. This ended up being my favorite section. The reactions to this section by the unsuspecting was priceless. The first time through reactions were great. Lol After the 12 miles was finished, we breaked for lunch. The next loop was old race trail and was roughly another 12 miles. It had some ruts, rocks, hills, ditches, and my not so favorite section "Tayler Turn-pike". There is a story behind that but I will save it for another day. First 8 miles were going great for us, seemed to making good time, and having fun. Someone might have got fooled by a dummy locked gate so we could get a couple extra miles in. Let's just say my group members found it a little funny and was totally ok with being lost for a split-second. One of the members said, "I knew you were lost when you started to stop & 180 & stop & 180." Probably a funny sight. Anyway, my sweepers helped me figure it out and we got back on track. After that incident happened, I was convinced I would miss another trail and it was so mentally draining. Finished out that loop and anyone who wanted to go on the next 6-mile loop could. A handful of us went on to do that loop. Something funny that happened on this loop, was watching Boyd fall over for no apparent reason.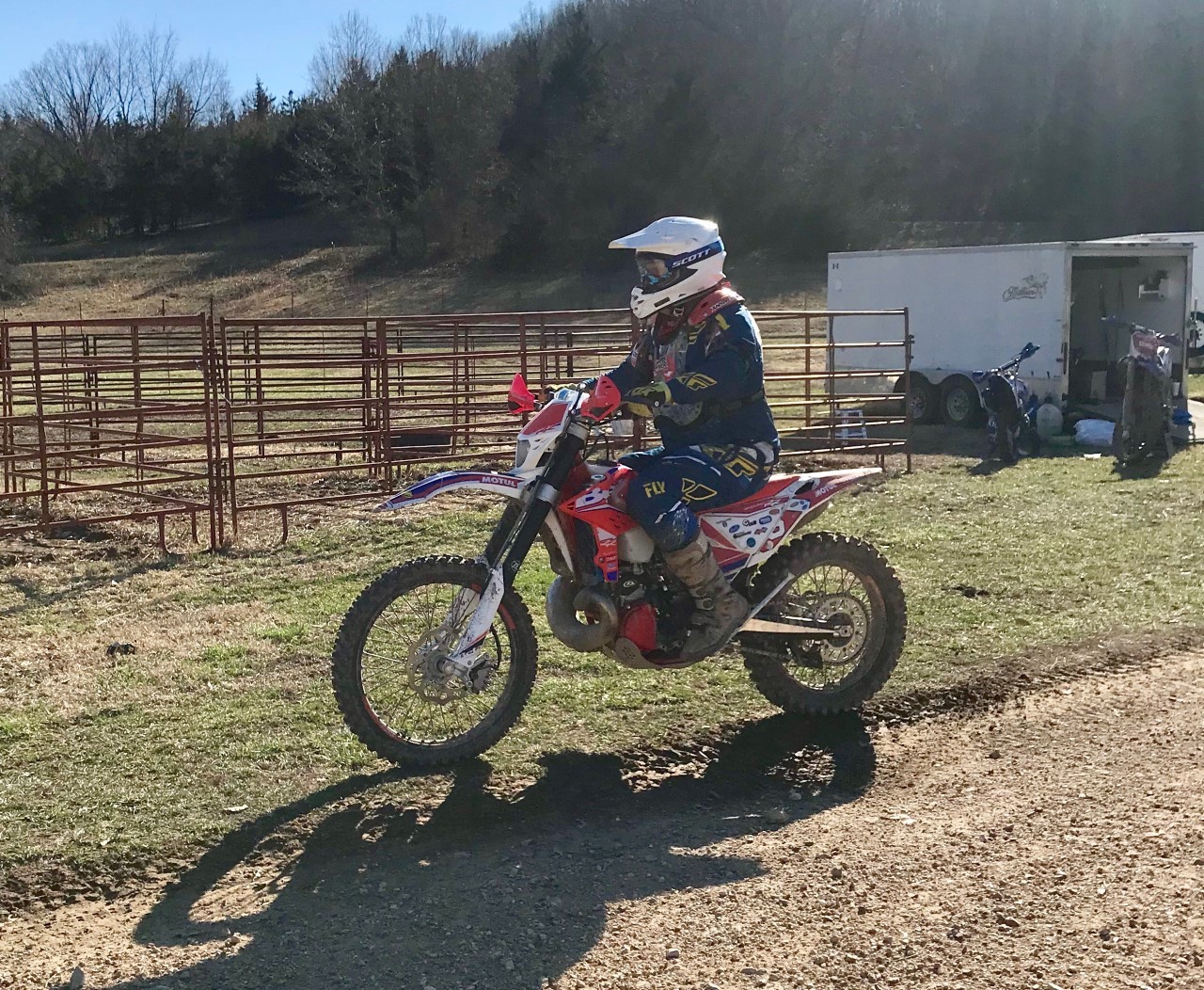 After trail riding was finished for the day, it was time for the games. I set Boyd up on our 2019 Beta 300 RR demo bike. He participated in the slow race and got second place against Drew Higgins. It was a blast watching all the shenanigans. Damon wheelied over another bike, t-boning among other riders, and kicking.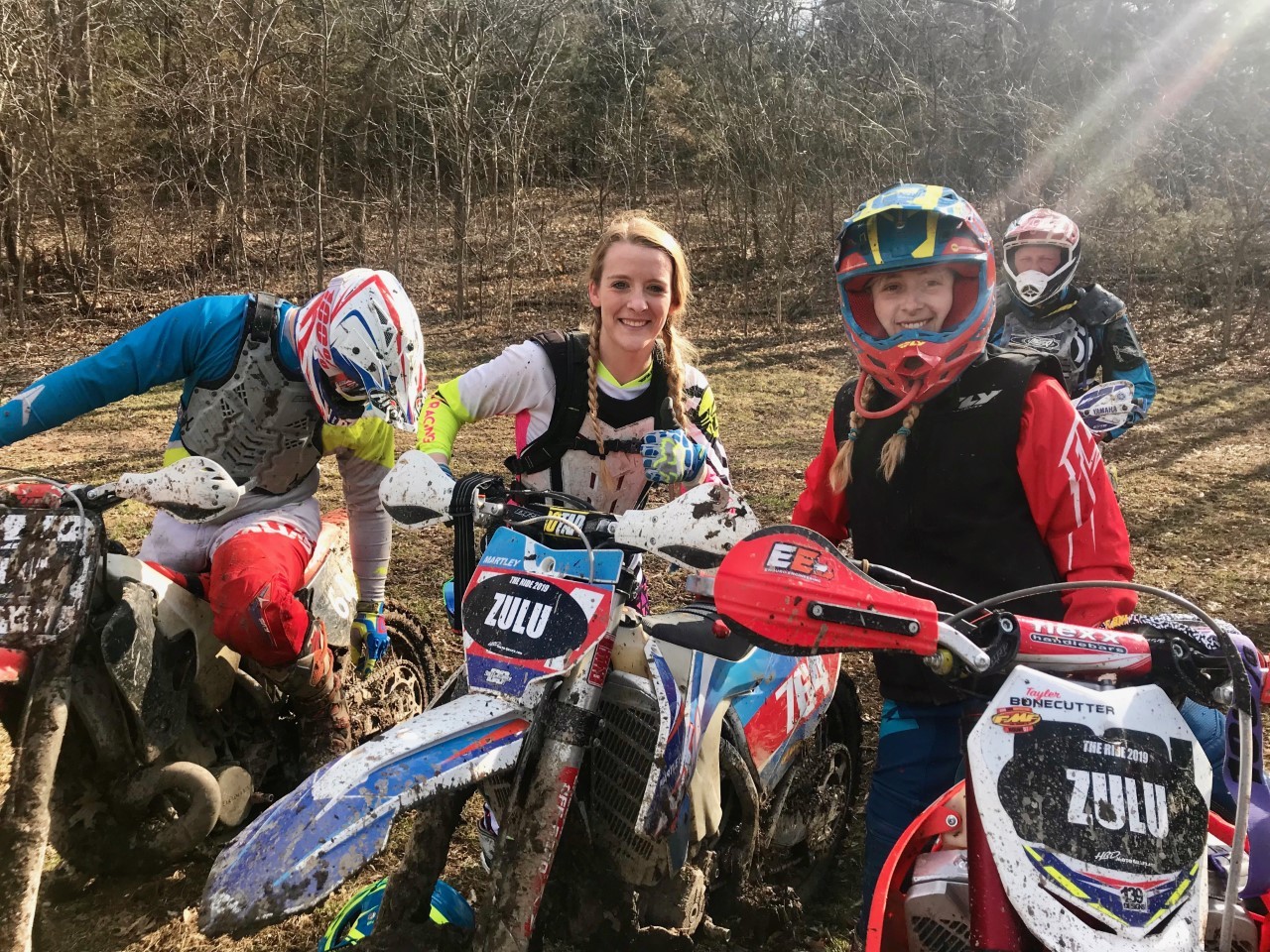 My extra couple of miles mess up, caused Saturday night dreaming about the trail and the gates. Could I figure it out going the opposite direction? Lol. Sunday my group was much smaller. I guess I scared everyone off with my guiding skills. We ran the 6 mile loop backwards and quickly moved on to the 12 mile loop with the formations. Damon rode with our group for the first loop and almost half of the second loop. Shortly after he went around to catch the next group, I waded it up pretty good. I hit slick roots faster than intended and hit the ground. Thankful to be wearing a Fly Racing helmet. After that incident, I had a hard time staying focused on the trail resulting in a lot of wrecks. My group bared with me and we took it down a couple notches. After lunch, lots of people were heading home. So, the groups were combined to two but really kind of like just one. We rode most of the old race trail and cut off onto the "easy part of the hardest loop". Massive rocks in this section but everyone made it just fine. It was around 17 miles by the time we made it back to camp. The entire weekend, I had a 13-year-old on a Honda 150 in my group. He rode all the miles he could and made it up massive uphill's and over rock ledges. It was impressive.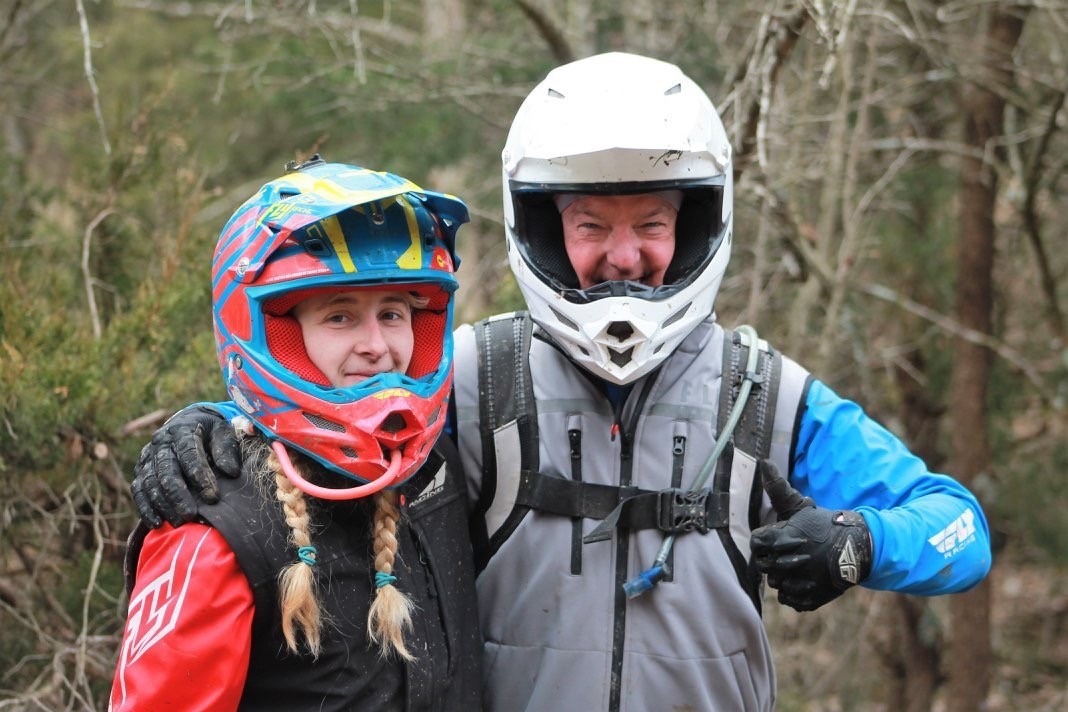 The number of miles covered in the weekend seemed to be more than enough for everyone. But get this, I was not sore at all!! So, that means we did not ride enough. The GPS on my Polar tracked 98 miles from Friday – Sunday. I will say I was pretty mentally fatigue and shout-out to anyone who puts on races. It would be rough and the hard work is greatly appreciated.
Sometimes it is not always about racing. Sometimes it is about being on the bike riding epic single track with friends and people who love it. It was a great experience getting to meet and ride with Damon Bradshaw and Bob with WPS/FLY. Nice catching up with everyone! Also, big thanks to Fly Racing for being a sponsor in this ride.