In a world full of different manufactures producing parts for dirt bikes it is difficult to decide if a person should stick to OEM or go for aftermarket parts. A lot of times OEM is more costly but better quality. Aftermarket is always a good option as it is generally cheaper but it may vary compared to an OEM part.


Over the years, more aftermarket parts have become available for Beta but there are many parts that a customer is required to go through a dealer. For Sherco, not many aftermarket parts are out there yet but any good dealer has lots of parts on hand! In a small business perspective, Beta and Sherco making parts mainly available to dealer helps all parties involved and keeps the small dealers around.
Key engine components such as gaskets, crank bearings, top end, bottom end, etc.. OEM is always a good rule of thumb. There is nothing wrong with aftermarket engine parts but the manufacture has set a standard in their factory so why wouldn't you put OEM back in?
When it comes to plastics, I personally prefer OEM. The OEM plastic seems to be less fragile and hold up better than aftermarket plastics. There is quite a price difference between the two. I look at it as if I can get double the amount of time with OEM plastics compared to the aftermarket, it is definitely worth the price difference to use OEM.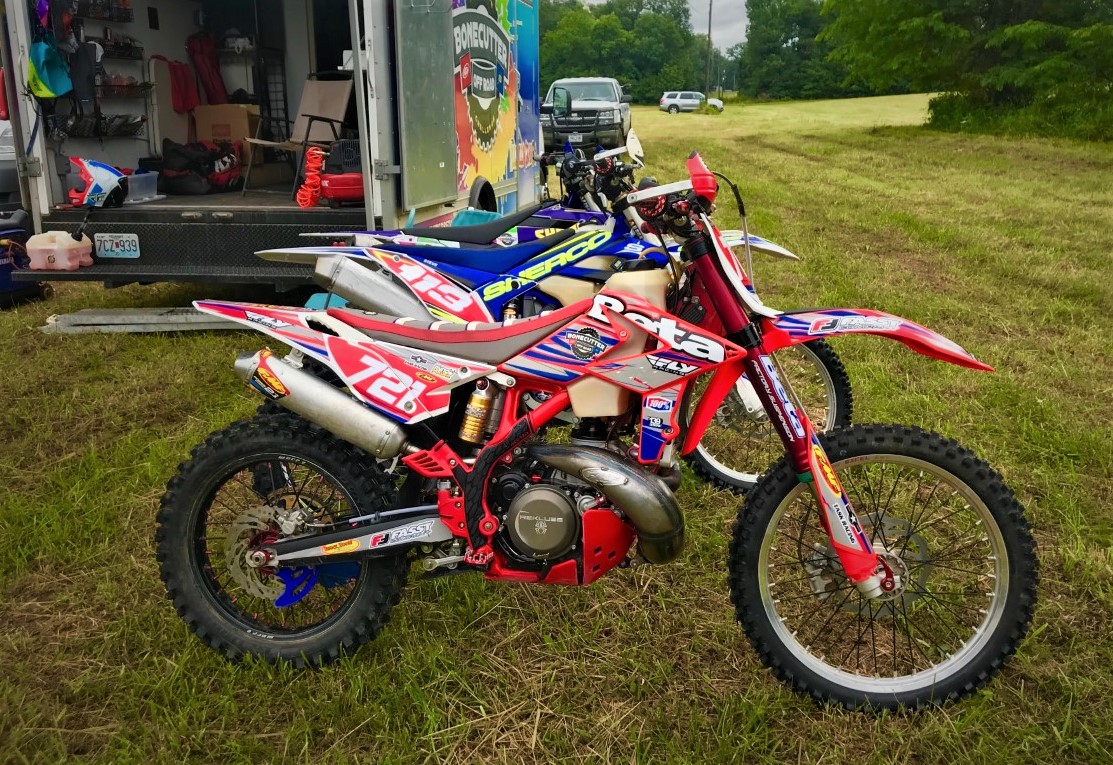 Exhausts is a personal preference item. On my Beta 250, the OEM setup is ok but I prefer the FMF Fatty. It gives the bike a spunkier feel. So, unless you ride a Sherco 300 SEF Factory or Cross Country, it is common to upgrade to an aftermarket setup. Oh, for those of you who do not know, the Sherco models listed above come with a high dollar Akrabovic exhaust system!
Next up, the clutch. If you are a clutch abuser that is kind of a bummer. I tend to be pretty easy on my clutch. I run a Rekluse in both my 250s with no issues just common wear and tear. I just recently bought a 125 so we will see how the OEM clutch stands up to me. Most of the time OEM clutches hold up well. There are lots of really good aftermarket clutch systems that are better than OEM but can be very costly. Using an aftermarket can be considered an upgrade on a bike. Sometimes after upgrading the plates it might also need the clutch basket, pressure plate and hub upgraded to make it all work better together. So, in this example, my opinion is both aftermarket and OEM are good options. Further research on brands and personal preference is recommended.
These are just a few examples of different parts or "upgrades" out there. If it is for a Beta or a Sherco we have a lot of them stocked on our shelves! We take pride in carrying lots of OEM and aftermarket accessories for the brands we sell and always willing to give our opinion based off of our experiences. When deciding aftermarket or OEM keep in mind, price difference, quality, and longevity.