The theme for this year seems to be, "LET IT RAIN".
Mud can make you have the best day ever or the worst day. It is tricky. I have never seen so many bikes sitting on the side of the trail blown up, broke down, or just racer's being worn out. It was very wild. I made a costly mistake fairly early in the race, setting me back significantly and I really struggled to navigate the conditions and the people. Every corner I turned, there was 10+ bike's sitting in the middle of the trail or laying in it. When the dirt is like ice, the mud is sticky, and momentum being your best friend, that made things extremely tricky.
I unfortunately had an electrical issue causing me to have a trip back roped to a ATV. I was pretty bummed with that but very happy with my overall strength and conditioning. If you struggle with picking your bike up in mud races or digging it out of ruts, get yourself to the gym & lift some weights. It makes a difference and not only in mud races. I finished the day in 5th. Massive thanks to Emily Raines for not letting me quit and feeding me delicious food Saturday night and Jordan and Lucas for helping me out throughout the weekend!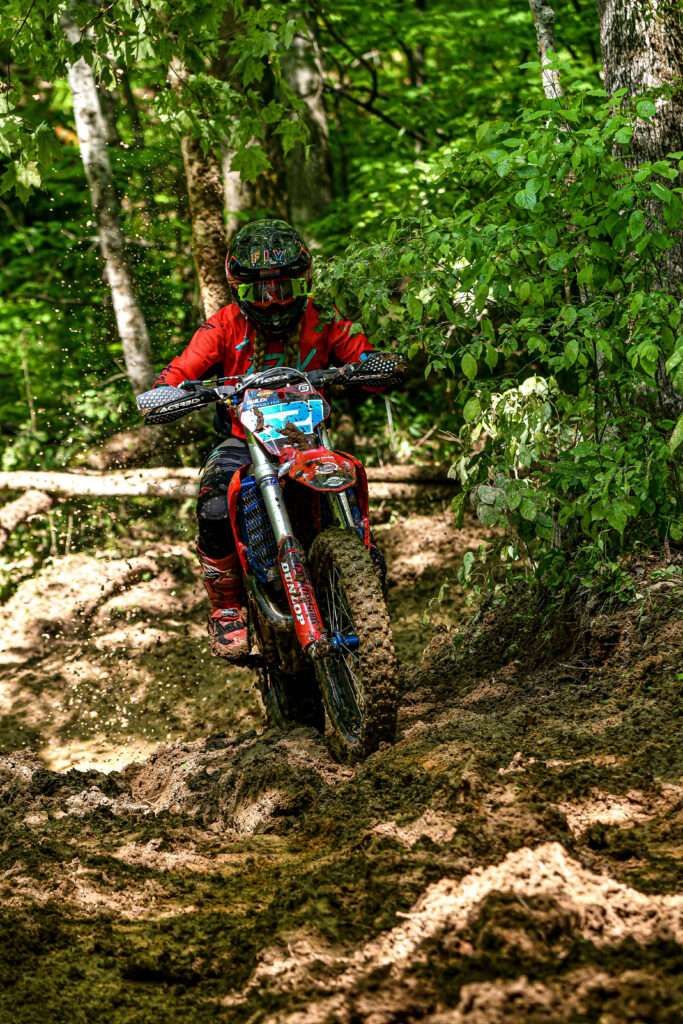 STORY TIME:
Never fails but at every GNCC I have at least one "out of the ordinary" story. The John Penton left me with multiple. My favorite one would be learning I am not a person who is "towable". Being towed makes it to where you are not in full control. The control is shared between two people. The one driving the ATV and the one navigating a broken bike. I wrecked a solid three times before getting it out of the woods.. I kept wanting to touch the ground as we crossed the mud and small ditches. It obviously did not work out for me.. haha.. it get's better.. As we approach the parking lot and start in on gravel, I get slightly distracted waving at someone and look back over just in time to realize I caught too much speed going down a hill. My reflexes made me slam the brakes which in return slammed me and the bike to the ground. Luckily, the bike didn't get drug to far. It hurt my ego more than me but I got a gnarly bruise going!
Another memorable moment from the weekend was being sandwiched between two bikes. I am not really sure how I ended up in that position but I was in it! I had to wait for a bike and my bike to get pulled off of me. In the meantime, my water pack and but was being burnt on someone's exhaust. I have a nice burn mark and destroyed my water pack. It's in these moments where a lot seem to go wrong, I question my sanity, wonder what I am doing out there but then remember I live for this shit and nothing will ever change that. Racing dirt bikes is life, the good, bad, and ugly is part of the fun.